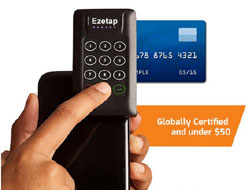 Bangalore-based mobile payments service provider Ezetap Mobile Solutions Pvt Ltd has launched a new mobile-point-of-sale (mPOS) device that costs under $50 and is compliant with the new RBI guidelines. The new device has also integrated all three solutions—magnetic stripe, chip and pin swipe in the same device.
Ezetap was started in 2011 by Abhijit Bose, Bhakta Kesavachar and Satheesh Vattekkat. Prior to this new mPOS device, the company developed an end-to-end solution which includes a secure card reader, mobile application and back-end platform that turns any handset into a point of sale. It has so far tied up with 10 banks in India and has clients across sectors such as e-commerce, insurance, taxi booking companies and more.
This new device can be plugged into any smart device or feature phone and turn it into a point of sale. It has a magnetic stripe and chip card reader with a pin pad integrated into a single product. It is certified in line with global security standards and is compliant with the guidelines recently issued by RBI, which make it mandatory for all mPOS devices to be compliant with chip and pin swipe. Though there are some other global players who are offering similar integrated mPOS devices, the company claims that none of them is available at this price point.
On Ezetap's current traction, Bose, co-founder and CEO, stated that it has crossed 7,000 live devices in India alone and is adding over 2,000 devices per month. "In addition to India, Ezetap is live in Kenya and will be expanding to Southeast Asia in the next three months," he said. The business in Kenya went live recently when Ezetap partnered with MasterCard and Equity Bank, one of Kenya's largest banks, to provide its mPOS technology in the Kenyan market.
In November 2012, the company raised $3.5 million in a Series A funding from Chamath Palihapitiya's Social+Capital Partnership, a Silicon Valley-based VC firm, as well as from Peter Thiel (co-founder of PayPal and one of the early investors in Facebook who is now associated with a VC firm and a hedge fund), David Sacks (founder of enterprise social network Yammer) and Nicolas Berggruen. Social+Capital Partnership led the round which also saw participation from the existing investor AngelPrime, a startup incubator launched by serial entrepreneurs Shripati Acharya, Bala Parthasarathy and Sanjay Swamy in 2011. As part of the investment, Palihapitiya joined the board of Ezetap. Besides, in July 2012, the company raised an undisclosed amount from AngelPrime.
(Edited by Joby Puthuparampil Johnson)
---