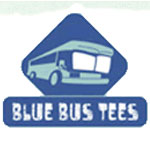 Mumbai-based Yu-th AD Retail Ventures Pvt Ltd, which runs the T-shirt selling site Blue Bus Tees, has raised an undisclosed funding from Deesan Group, a Mumbai-based cotton textile manufacturer. The money raised will be utilised to launch a baby wear section and also to re-launch the women's wear section.
Blue Bus Tees was started by Abhir Khanna and Pranav Kapur back in 2009. While Kapur has a family business in apparel and has been working there for the past decade, Khanna graduated from Purdue University (US) and joined Kapur for this venture. Blue Bus Tees is part of the offline business that Kapur runs. The development was first reported by Yourstory.in.
At Blue Bus Tees, the main focus is slogan tees for youth (men and women). T-shirts with catchy captions are the main offerings while buyers can design their own T-shirts as well. An earlier story published by  said the startup buys blank T-shirts from an exporter in southern India and gets those printed in Mumbai.
We have seen some recent activities in this space when Bluegape, a fan merchandise and customisation platform, raised angel funding from Aniket Khera (fund manager at Wegmans Financial Services Ltd), Rahul Bhatia (portfolio manager at Willow Investment Management, LLC) and an unnamed internet entrepreneur.
Another well-known player in this category is Inkfruit, which has similar offering but focuses more on user-generated designs. Earlier this year, Inkfruit merged with private label fashion and accessories e-tailer Zovi.com. Another e-commerce biggie, Myntra.com, also started as a customised gift printing company in 2007 and later pivoted to branded fashion and lifestyle products.
Going by the track record of the companies in this space, one can see that players haven't been able to sustain on customised accessories (T-shirts, mugs, stationery, etc.) alone. But given the founding team's strong textile-based background, it is possible that Blue Bus Tees will play it out in a different manner.
(Edited by Sanghamitra Mandal)
---