Excl: Fan merchandise & customisation platform Bluegape.com raises angel funding


Bluegape LifeStyle Pvt Ltd, the company that owns and operates Bluegape.com, a fan merchandise and customisation platform, has raised an undisclosed amount in Angel funding from Aniket Khera (fund manager at Wegmans Financial Services Ltd), Rahul Bhatia (portfolio manager at Willow Investment Management, LLC) and an unnamed internet entrepreneur. All the investors have invested in their personal capacity. While the financials of the deal are not available as of now, the funding has happened in convertible notes.
The funds will be primarily invested in signing up with more brands for their exclusive fan merchandising rights. It will also be invested in improving the logistics and warehousing.
"We are trying to become a one stop destination for all brands who want to launch their fan merchandising in India. We are also speaking to some international brands, since apart from a few brands like Angry Birds or Disney, most of them are not able to figure out how to make money from fan merchandising in India, considering the market is still niche as of now," said Sahil Baghla, CEO, Bluegape LifeStyle.

The new round will last the company another six months, post which it will go for a Series A round.
"We did not want a valuation of the company at this point and hence went for convertible notes. Six months from now we will raise our Series A round, which will be in the $1-2 million range," said Baghla.
For those who don't already know, Angel investors use convertible notes when they invest in a company without actually determining an exact valuation of that company. The convertible notes are later converted to equity when an equity investor funds the company (usually Series A funding) at a later point in time.

The Delhi-based startup was founded in August 2011 by Baghla, Ayush Varshney (CTO) and Akash Rastogi (operations), who were later joined by Shailendra Singh (design). All three founders are IIT-Kanpur alumni. Baghla and Rastogi have had brief stints with Orbis Biosciences (Baghla) and Reliance (Rastogi), prior to Bluegape. The startup was selected by TLabs, an accelerator programme run by Times Internet Ltd (TIL) and apart from the mentoring, it also received a Rs 10 lakh cheque from the accelerator in March last year.
While the company started as an e-tailer of customised posters, in addition to that, it now also offers e-merchandising solution to brands. In simple words, the site has entered into exclusive partnerships with a number of brands and offers their merchandise on the site. And for users looking to create their own products, the site also offers a customisation option.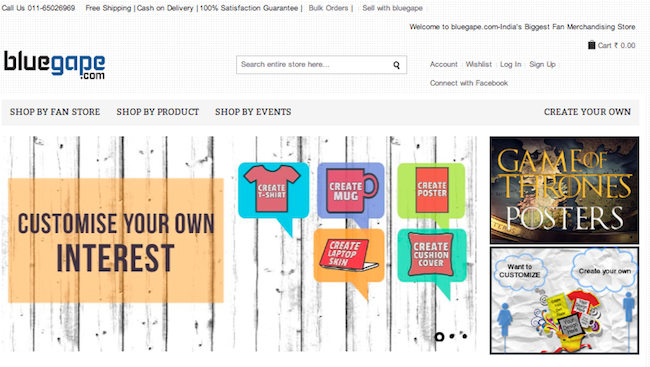 Quick Stats
As of January this year, the company had partnerships with 18 brands that included We and Football, Garbage Bin, One97, Wireless Duniya, IIT Tips, iXiGO and brand69 (a brand created and owned by the startup, among others) and the site was offering over 2,000 SKUs for products like posters, mugs, t-shirts, laptop skins, men's clothing, books, canvas and cushion covers. Also, at the time, the site was getting over 70,000 unique visitors on a monthly basis and the top three cities from where orders came were Bangalore, Delhi and Kanpur, in that order.
The number of partnerships has now increased to 32 with the addition of a few large brands like Yash Raj Films and Wild Stone (it is also in final talks with brands like Tata Motors and Honda). The number of SKUs has increased to 3,600, while the site is now getting over 1.5 lakh visitors (more than 100 per cent increase in a single quarter) on a monthly basis. There has been a reshuffle in the top cities in terms of orders, with Bangalore retaining its position, followed by Mumbai and Delhi. The team size has also increased from 8 to 13 as of now.

Additionally, the average ticket size for the site has gone down from Rs 600 to around Rs 500, but that isn't bothering the company much since the volumes of orders has also increased in proportion.
In the same space, the startup faces competition from the likes of Postergully, Allthingscustomized.com, Carmocrat and Posterduniya.com.
---