Sandeep Aggarwal, co-founder and CEO of Gurgaon-based Clues Network Pvt Ltd, the startup that runs the horizontal e-commerce marketplace ShopClues.com, has been arrested by the Federal Bureau of Investigation (FBI) on insider trading charges. Aggarwal was a Wall Street analyst prior to starting ShopClues and according to the FBI, he allegedly tipped off Richard Lee, the portfolio manager at the hedge fund SAC Capital, about a pending deal between Microsoft and Yahoo. He was arrested in San Jose earlier this week when he was visiting the US. See the FBI tweets below.
"Rather than rely on legitimate research methods, Aggarwal obtained confidential information from a close friend at Microsoft and passed it along to Lee, knowing that he would likely trade on it," said Sanjay Wadhwa, senior associate director of the Securities and Exchange Commission's (SEC) New York regional office, in an official release. "As a sell-side analyst, Aggarwal knew the rules and yet he broke them, which is why he joins the growing ranks of those held accountable by the SEC for insider trading," he added.
Lee has already pleaded guilty to insider trading charges and confirmed he had received non-public information back in 2009 about confidential talks between Microsoft and Yahoo. At that time, Aggarwal was working as a senior internet analyst at the research firm Collins Stewart and was focusing on global internet and digital media companies like Microsoft, Yahoo, Google, Amazon, etc.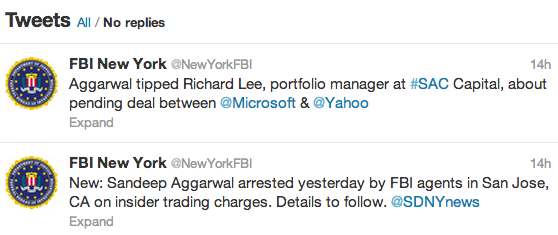 SEC alleges that Aggarwal learnt confidential details about the significant progress in the Microsoft-Yahoo negotiations from his close friend at Microsoft on July 9, 2009, and he tipped Lee with the information during a telephone call the following day. Aggarwal shared very specific details with Lee and also assured him that the information came from a close friend at Microsoft who was reliable and accurate. When the information was reported in the media almost a week later, Yahoo's stock price rose approximately 4 per cent. SAC Capital and Lee reaped substantial profits from the Yahoo shares that he purchased after speaking to Aggarwal.
The SEC's amended complaint charges Aggarwal and Lee with violating Section 10(b) of the Securities Exchange Act of 1934 and Rule 10b-5. The amended complaint seeks a final judgment ordering Aggarwal and Lee to pay disgorgement of ill-gotten gains plus prejudgment interest and financial penalties, and permanently enjoining them from future violations of these provisions of the Federal securities laws.
After his stint at Collins Stewart, Aggarwal joined Caris & Company as a senior internet analyst for about a year, post which he returned to India and started ShopClues.com, along with Sanjay Sethi (vice-president, products), in July 2011. The company was initially bootstrapped with Rs 1 crore, which was personally invested by Aggarwal.
The company runs a zero-inventory marketplace where sellers can display their product catalogues. In March this year, ShopClues raised Series B funding of $10 million (Rs 54.1 crore) from Helion Venture Partners, Nexus Partners and Netprice.com, a Japanese business group based in Tokyo. Helion led the round and as part of the investment, its managing director Sanjeev Aggarwal joined the board of ShopClues. At that time, Aggarwal told Techcircle.in ShopClues was doing 1.7 lakh transactions on a monthly basis and was eyeing profitability in the first quarter of CY2014.
This was the second investment by Nexus in the company. In January 2012, Nexus led the $4 million Series A round in ShopClues, which also saw the participation of an unnamed Asia-based VC investor. As part of the investment, Anup Gupta, MD of Nexus Venture Partners, joined the company's board. The firm also secured angel funding to the tune of $2 million from a few US-based investors in August 2011, taking the total amount raised by the startup to over $16 million.
(Edited by Sanghamitra Mandal)
---