Chennai-based accounting software firm Reach Process Outsourcing Ltd, which owns and operates Reachaccountant.com, is raising its first institutional round of funding from venture capital firm Sequoia Capital, sources close to the development informed Techcircle.in/VCCircle. For more details of the transaction click here.
We tried contacting the company for a confirmation of the development, but Robin Moses, founder and CEO, Reach Accountant, declined to comment. We also contacted Sequoia Capital and are awaiting an official response from the firm.
Reach Accountant had earlier (February 2012) raised an undisclosed amount in angel funding from Rajan Anandan and Rehan Yar Khan. As part of the investment, Anandan had joined the board of the company. The firm was incubated by The Morpheus.
The company had earlier told Techcircle.in/VCCircle that it broke even in 2011; it was looking to raise a Series A round.
Started as Reach Tax in 2007, an online tax preparation service, the company rebranded to Reachaccountant.com, an online accounting software-as-a service (SaaS) application, in April 2010. The company is the brainchild of Moses, who had sold off his food and distribution business, and was looking to start something new, when he hit upon the idea of creating an application that could replace accountants and the daily hassles related to it.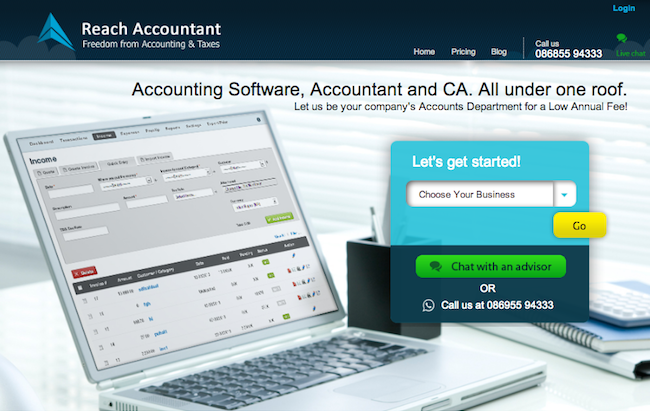 Targeting small and medium businesses (SMBs) that file tax returns electronically in India, the company provides services related to indirect tax, which includes monthly tax deducted at source (TDS), value added tax (VAT), sales tax and daily accounting and billing. Simply put, Reach Accountant is a combination of accounting software, an account manager, an accountant, a payroll manager and a chartered accountant.
As of July last year, the company had managed to acquire 1,000 subscribers. According to information displayed on the site, this number has now increased to 12,854. While the company is headquartered in Chennai, it has sales centres in Bangalore and Hyderabad.
Sequoia Capital, which invests in both early stage ventures as well as participates in growth capital PE deals in the country, had early this year co-invested in Dexetra Software Solutions Pvt Ltd, a mobile applications startup. In the same month, XinLab Inc., which operates under the brand Vuclip, acquired Mumbai- and Toronto-based mobile video streaming startup Jigsee in an all-stock deal, while early investors Sequoia and Indian Angel Network (IAN) swapped stake to become shareholders of VC-backed Vuclip. In another deal, it also co-invested in Bright Lifecare which runs e-com firm Healthkartplus.com.
(Edited by Joby Puthuparampil Johnson)
---