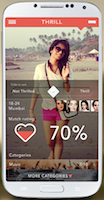 Thrill Pte Ltd, a mobile dating startup with an Android app which is also called Thrill, has raised an undisclosed amount in funding from Samir Bangara, a former managing director (digital) at the Walt Disney Company in India and currently the CEO of Qyuki.com, and Rajesh Kamat, CA Media's Indian operations head, as well as from a couple of unnamed Singapore-based investors. The funding was completed in May 2013 and would be primarily used for product development and marketing.
The Singapore-incorporated startup was founded by Josh Israel and Devin Serago in November 2012. Israel holds a degree in Labor and Employment Relations from Rutgers, The State University of New Jersey, and prior to Thrill, he worked at A.M. Best Company. Serago earlier worked at the Reinvestment Fund and Sebak and Monner Associates, LLC. He holds a degree in Business Administration from Monmouth University in the US. The startup also has Prem Kumar, previously CEO of Fly Mobile, on its board as advisor.
Earlier, Israel and Serago also co-founded Plan A Drink, Inc., a dating platform developed at Start Engine, a Los Angeles-based startup accelerator. While the founders decided that the product/market fit wasn"t right in the US, they found an opportunity in the emerging markets and Thrill was born. Although the company was set up in Singapore, the founders have already moved base to India and are now looking to set up an office in Delhi. Currently, the team size is eight including the founders and six Bangalore-based developers.
Thrill is essentially a dating app that enables users to meet new people. But unlike the regular dating apps/sites, this one puts the women in control and hence the tagline – He applies. She decides.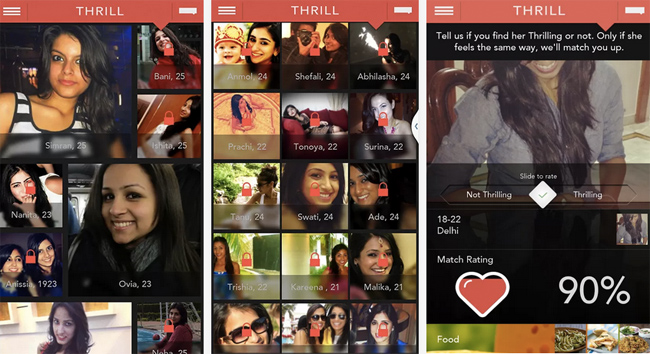 Interestingly, women can join Thrill whenever they want, but guys have to apply to join, after which the female users vote them (up or down) and the ones with the most positive votes make the cut. Note that the app requires Facebook, LinkedIn or Twitter (females only) accounts to login, in order to ensure safety and quality of users.
"We"re about quality, not quantity. Once a male user is approved (or if you are a female), the app lets you find someone Thrilling or Not Thrilling. If you find someone Thrilling, and he/she feels the same, the app makes the introductions and the couple can take it forward from there," said Israel.
The app also defines what it means by Thrilling and what's Not Thrilling. Thrilling can be anyone with a decent number of friends and interests; a profile picture that is genuine; someone who invites and gets 'voted up' by female friends and one who is young, considering the company is targeting the age group of 18-25 years. Not Thrilling can be – being married or having a girlfriend; having only a few or no friends on Facebook; having a snapshot of a celebrity or a cartoon character as the profile picture and being a creep.
As for revenues, the startup will look at in-app monetising. A few of the matches determined by the app will come free of cost on a daily basis, but users can unlock even more profiles by paying for the service. Other revenue channels could be contextual advertising and paid-promotion of profiles, among others. The app has gone live earlier this month and seen 100-500 installs till date. Going forward, the company is planning to launch an iOS app (it should be out by the end of August) and later, it will also look at tablet-focused apps.
Other investments by Bangara, one of the top 15 angel investors of 2013 (read more on that here), included an undisclosed amount in June this year in Mumbai and San Francisco-based startup Playblazer, Inc., which offers a cloud-based SaaS platform for social and multi-player game developers and studios. Last month, Gurgaon-based tech startup Red Brick Lane Marketing Solutions Pvt Ltd, which has launched the mobile app Zapr that enables users to get reward points for watching TV commercials, also secured an undisclosed funding from both Bangara and Kamat, along with GITP (Global Innovations & Technology Platform), a Singapore-based corporate angel investor.
(Edited by Sanghamitra Mandal)
---