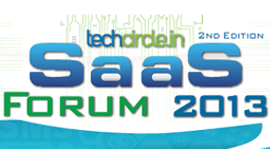 SaaS as sector has been on the radar for investors and entrepreneurs alike for quite a while now and we have seen some interesting companies sprout in the Indian startup ecosystem and get funding from prominent VCs as well. While earlier the challenges were more towards building the company and finding the right concept, the issues that now plague the industry are related to 'how to scale it to a global level' and 'how to sustain the customers' interest globally and back home at the same time'.
In last year's Techcircle SaaS Forum, industry experts pointed out that though India offers its own challenges for SaaS companies, the country also provides immense opportunities since the market is at an early stage right now. In Techcircle SaaS Forum's 2nd edition, which will be held on August 7, 2013 at Chancery Pavilion Hotel in Bengaluru, we will have a special panel on the topic 'Building An Efficient Sales Engine; Acquiring Customers; Selling To Global Markets' that will look into the building of a sales team for a SaaS company- since its all about acquiring customers. How to hire a kick ass sales team? how to make strategies that work for global as well as native clients? How to increase conversion rates? All these and more key questions will be discussed in the panel.
The panel will be moderated by Murli Ravi, head of South Asia investment, Jafco Asia and will include panelists like Harishankaran K, co-founder, Interviewstreet; Avlesh Singh, co-founder & CEO, WebEngage; Aditya Sanghi, Co-founder & CEO, Hotelogix and Girish Rowjee, Co-Founder & CEO, Greytip Software. So don't miss it.
In addition, the event will also focus on SaaS-related issues like getting the sales and customer acquisition strategy right, how to get the cost of acquisition right, how to imbibe efficient communication in your overall strategy, and more. The forum will be the largest platform for stakeholders, including CEOs representing top and emerging SaaS firms, innovators as well as private equity and venture capital investors betting on this space.
For registrations, write to kanika@vccircle.com or call 0120-4171111. Click here for more details.
---