Better margins, higher brand loyalty lure e-com biggies to venture into private label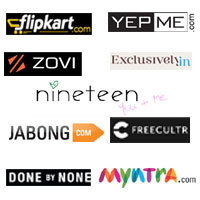 e-commerce players in India have been going through a phase of introspections and evaluations. While earlier niche private label e-tailers came up one after other (Zovi, YepMe, FreeCultr and DoneByNone, to name a few), recently, mainstream biggies have been realising the potential in private label and thus have been coming up with their in-house brands.
It probably started with Myntra acquiring Exclusively.in last year and integrating its private label brand Sher Singh with its portal. It has since been focused on in-house labels—it has launched six in-house brands in apparel and lifestyle sections. The other biggie in e-commerce Flipkart has in-house brands in electronic accessories for laptops, mobiles, cameras and gaming. Recently, Jabong co-founder and MD Praveen Sinha stated that the firm has been stealthily piloting private label brands in the apparel section. So, why are the biggies suddenly showing interest in private label which requires more patience and time as it is relatively unknown to consumers?
Better margin means faster breakeven

Industry sources said while net margins on branded retail range over 35-40 per cent, private label margins can go up to 60 per cent. Also, private labels don't incur the marketing and promotional expenses that are attached to brands. Plus, in-house brands or labels lend a lot of flexibility for the seller in terms of quantity of merchandise. "Private labels help in margin expansion but we mainly want to respond to the needs of our customers. Through these labels, we try to address the gaps left by brands in terms of price points, style or colours," said Praveen Sinha of Jabong.
According to Mahesh Murthy, managing partner of Seedfund (an investor in private label e-tailer DoneByNone), there is more to it. "Private label is different from retailing others' brands. Private label is differentiated, higher margin, and takes longer to build while retailing others' brands is undifferentiated, lower margin and easier to do," he said. He agreed that private label breaks even faster as one has much higher margins to play with, and much lower cost per acquisition. "But, if you don't have a clear vision, you will try to win customer's hearts and minds; then it is probably better to desist till you have an idea for what your brand should mean," he said.
"Private label requires building a brand which is hard, dealing with supply chain and manufacturing which is more complicated. The main reasons for doing it are better margins and the fact that if one is able to create even a small brand, it has some inherent value," said Ashish Gupta of Helion Ventures.

More sale per sale
It is clear that private labels offer better margins. They also strike a chord with consumers since they are aimed at being unique in terms of price and proposition; this also translates to brand recall in customers' minds. "We have six private label brands (Roadster, Dressberry, Kook N Keech, Anouk, Sher Singh and Mast & Harbour). The idea behind launching these brands was to fill gaps across particular categories in the market, in terms of both price points and design elements," said Bansal, co-founder and CEO, Myntra.com. In terms of revenue share, Bansal said currently the firm's private labels contribute close to 10 per cent of total revenue but over the next year, it expects this number to grow to 20-25 per cent of the total business.
Another key player Jabong claims this number to be 10-15 per cent. Last year, Smile Group's FashionandYou had stated that private label business accounts for 15 per cent of its total business. At that time the firm had eight private labels.

While other players refused to share the contribution of private label in their total revenue, industry insiders say 8-10 per cent is an industry average for horizontal players who have multiple in-house brands.
How are standalone private label e-shops faring?
There are a handful of private label e-tailers like DoneByNone, Zovi, Freecultr, YepMe and Shopnineteen. Going by their numbers, all these players score on popularity and brand loyalty of consumers. Since they are focused, they are putting all their energy on promoting their private label merchandise.

For instance, DonebyNone has a come a long way since it started as Handspick in 2011. Earlier this year, talking to Techcircle.in, Vijay Misra, its co-founder and chief product officer, stated that the site enjoys an 18 per cent repeat rate. He said the startup is clocking around Rs 1 crore in gross merchandise value per month, with 250 orders a day and an average order value of Rs 1,400. While, the numbers may not be anywhere close to those of giants like Myntra or Flipkart, the fact that it is growing at good pace with a decent traction is enough to make others notice the prospects of private label e-tailing.
Another player Shopnineteen pegs its USP on being able to churn out new merchandise every fortnight which earns it a lot of repeat customers. "We believe that the biggest benefit of being a brand is that you are your own USP," said Narinder Mahajan, co-founder & CEO, Shopninteen.com.
Will niche players be threatened as bigger and well-capitalised players turn to private label for quicker growth? "Since private label delivers higher margins, all players will eventually venture into it. But independent players like Yepme, which sells only its own brand, are not really private label but more of a brand," said Ashish Gupta. These smaller players also have an option of selling on other portals (such cross-selling has already started happening).

The other route is what Myntra took when it bought Exclusively.in or when Zovi acquired rival Inkfruit. So, we may see more consolidation in the space, going forth.
It will be interesting to see how it plays out between niche private label players and horizontal e-commerce biggies adding private label to their menu.
(Edited by Joby Puthuparampil Johnson)

---