Excl: Jabong comes up with managed marketplace, to expand it this year
Delhi-based lifestyle e-tailer Jabong.com has revealed that it has been piloting a managed marketplace with some of their partners and is looking to expand it further in 2013. Talking to Techcircle.in, Praveen Sinha, co-founder & MD of Jabong, said that the Rocket Internet-funded e-commerce giant started piloting a managed marketplace model in October-November last year and it is live now.
"Customer experience is most tricky in a marketplace and that is why it is hard to scale. On our portal, our own inventory is still more prominent, but we are running the managed marketplace in partnership with selected vendors. We do it by blocking the inventory with them," said Sinha.
He also added that the company does not store vendor inventory, but follow the same quality checks and supply chain mechanisms. In terms of SKUs, it is on par with the industry standard (around 18-20 per cent of total SKUs) and Jabong is looking to expand that in 2013.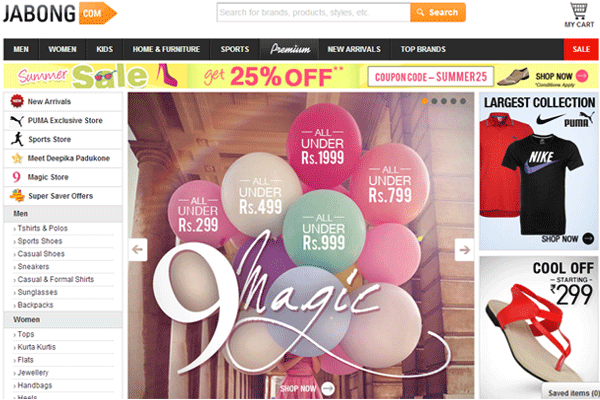 "The marketplace model is a necessity," noted Sinha while talking about the development. He also informed that other private label e-tailers like Yepme and DonebyNone partner with the company for the managed marketplace, where it writes on the top of the window that the product is managed by a Jabong partner. This is mostly done to inform buyers that the delivery may take some more time than usual. Sinha also shared that the e-tailer had been doing a lot of pilots to see what more changes could be done to enhance the current model.
Besides the managed marketplace model, the company has also experimented with private label merchandise now and then. "We see a gap in quality from brands and we try to fit our own designs and labels there. Private label is very much in our strategy and we will keep experimenting with it," added Sinha.
Other recent moves to marketplace Marketplace is the new must-have for e-tailers, it seems. Call it herd mentality or call it the need of the hour, most of the mainstream e-commerce players are now moving to marketplace to ensure capital efficiency. Before Jabong, we have seen Flipkart, Yebhi and many other smaller players in the sector making the move.
Earlier this year, Flipkart, the big daddy of Indian e-commerce launched a marketplace, which enables third-party sellers to list their products on its website and sell directly to consumers. Another key player Myntra has also hinted at launching a marketplace over a period of 12-18 months. Yebhi.com, which recently raised  an internal bridge round, shared that it would be expanding its marketplace share this year.
Last year, BuyThePrice, an e-commerce site owned and operated by MyZingo eCommerce Service Pvt Ltd, completely moved to the marketplace model (it was bought by Tradus.com this year). Ahmedabad-based e-commerce firm Infibeam.com also quietly pivoted from being a pure-play e-commerce player to a hybrid venture, incorporating an Amazon-like model where it allows other vendors to sell the same product with same or different pricing.
(Edited by Sanghamitra Mandal)
Comment(s)