Ahmedabad-based e-commerce firm Infibeam.com has quietly pivoted from being a pure-play e-commerce site to a hybrid venture, which basically means that apart from selling products on its own, it would also allow other vendors to sell the same product with same or different pricing. This is similar to the model used by the world's largest e-commerce firm Amazon.
"Infibeam.com will always remain a retailer," Vishal Mehta, CEO, Infibeam told Techcircle.in.
This means a consumer can opt to buy a product either from Infibeam or from one of the other sellers listed on Infibeam, for the same item whose prices could well differ. This would provide additional choice for a consumer, if a product is not available in stock with Infibeam or is priced lower with the other seller.
Interestingly, in contrast to regular marketplaces where anyone (after qualifying for the parameters of that particular marketplace) can join as a seller, the company has chosen to keep Infibeam.com a 'controlled' marketplace, which implies that only sellers that are part of BuildaBazaar, a cloud service from the company for retailers and entrepreneurs interested in e-commerce, can sign up as sellers on Infibeam.com. While sellers using the BuildaBazaar platform always had the option of selling Infibeam.com's SKUs on their respective sites, the company (Infibeam) has now allowed the option to sellers to showcase their products on Infibeam.
"The logic behind opting for a controlled marketplace instead of an open one is to ensure seller, and in turn, the product quality. Since at the end of the day it's the Infibeam brand loyalty and trust that will attract customers on the site," said Mehta.
The company started the marketplace in stealth mode two months ago and claims to have already signed up over 1,000 sellers. "This number can reach multiple of thousands in the coming months," said Mehta. As of now, the company has started the marketplace for selected few categories that include electronics (digital cameras and mobile phones) and books, but it will continue to offer the same for other categories as and when it signs up more sellers. The company is also offering 'fulfillment as a service' to the sellers that require/opt for it.
We can understand the concept of a hybrid marketplace, but why has the company opted to make it a controlled one. Is it because going forward it could also launch an open marketplace? The other exiting online marketplaces include Snapdeal.com, BuyThePrice.com, ShopClues.com, etc., and India's largest consumer e-commerce firm Flipkart.com, which is in the process of launching its own marketplace (though the firm has not indicated officially whether it would be a separate site or integrated to its existing mothership).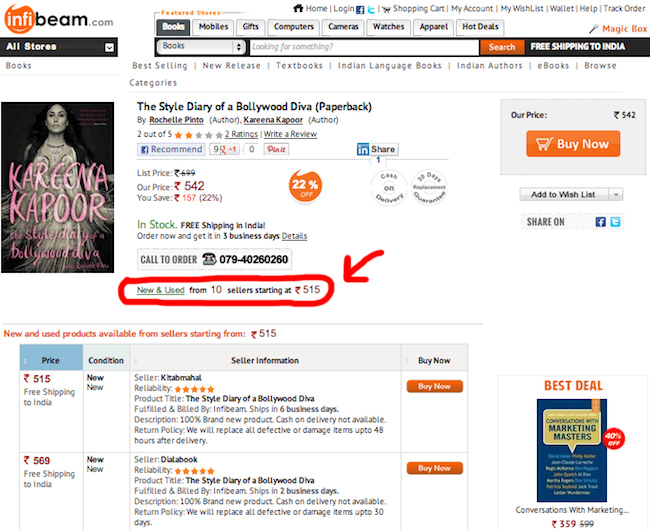 Refurbished books
Apart from launching a marketplace, the company has also starting offering refurbished books. This is again similar to Amazon, where the e-com giant offers new as well as used products (at cheaper price) to its customers. Amazon (as also eBay) offers this across categories though, as against Infibeam which has restricted it to books for now.
"A large number of people prefer to buy used books instead of new ones since they cost less. Keeping that in mind, we started offering used books along with new ones," said Mehta.
"While Infibeam.com will always sell new products, the used books are being offered by other sellers." Last we checked, the site was offering a number of options to choose the used books depending on their state- like used, used-fine, etc.
Infibeam, which is a horizontal e-com firm, has been toying with different features and tertiary businesses in the e-commerce space.
Last October, the company had launched a 'Wallet' for its site, which basically works like a prepaid account that allows users to shop on the site without having to use a card or net banking for making payments every time. A month later, it launched a new subsidiary called Indent (stands for Infibeam Digital Entertainment), a platform focused on offering technology solutions to music labels, brands and smartphone makers.
At the time, Indent had also signed its first digital service agreement with Sony Music Entertainment India (valued at multiple crores), which resulted in Sony Music rolling out 'Sony Music Jive', a music service to download and stream music, for a number of Xperia mobile phones early this week.
It already runs the BuildaBazaar platform, which allows offline retailers to offer an online retail channel, bringing in an add-on business revenue stream for the company.
E-com pivots in India
Off late, a number of e-commerce sites have been pivoting from their original business models. These pivots could include a complete change in the business model, addition of a new vertical or simply a tweak to the existing business model. In September 2011, Snapdeal.com started transitioning from being a pure online deals site to a full-fledged horizontal e-commerce company via a marketplace model.
Post this, a number of companies followed suit.
Flipkart Online Services Pvt Ltd, which runs Flipkart.com, finally made its marketplace official early last month.
BuyThePrice.com, an e-commerce site owned and operated by Hyderabad-based MyZingo eCommerce Service Pvt Ltd, did a Snapdeal and completely changed its business model from being a pure e-commerce site to a 100 per cent marketplace.
Paytm.com, a site that enables mobile, DTH and data card recharging online, also launched a bus ticketing service under the name Paytm Tickets.
MySmartPrice Web Technology Pvt Ltd, a Hyderabad-based startup that started Mysmartprice.com as a price comparison site for books, seeks to pivot from price comparison to product discovery platform, and for the same, has over the past two years morphed into a broader price comparison site for products across categories.
Bangalore-headquartered Seventymm Services Pvt Ltd, which started as an online DVD rental company almost eight years ago, switched to become an e-commerce site focused on movies. Recently, it pivoted to a pure-play e-commerce venture.
In some cases, the pivot was based on realisation that running an inventory-led e-com venture was high on cash burn and shrinking venture capital funding in the business. Interestingly, Infibeam is one of the rare few e-com ventures which are over three years old and has not attracted any institutional funding till date.
(Edited by Prem Udayabhanu)
---