MySmartPrice Web Technology Pvt Ltd, a Hyderabad-based startup that started Mysmartprice.com as a price comparison site for books, has over the past two years morphed into a broader price comparison site for products across categories.
It was co-founded by Sitakanta Ray and Sulakshan Kumar as a part time project in September 2010. However, the founders later left their jobs and started working on it fulltime from October 2010. Prior to MySmartPrice, Ray, an MBA from IIM Bangalore, has worked in Oracle and ICICI and Kumar was working in Oracle and Infosys.
MySmartPrice claims to have almost tripled its visitor base from 60,000 a day in July last year to 1.5 lakh as of now which means around 4.5 million visitors a month.
It had earlier raised Rs 2 crore in venture capital funding from Helion Venture Partners and Accel Partners. While Helion Venture Fund II, a fund managed by Helion Advisors Pvt Ltd, invested Rs 1 crore in the startup in October 2011, Accel India Venture Fund II, a fund managed by Accel India Management Co Pvt Ltd, invested around the same amount in March last year.
MySmartPrice has used these funds for running the operations as well as increasing the team size. From a six-member team in July last year, it has grown to 13 as of now and is looking to further increase this number to 20 within the next three months. According to Ray, the funds will last another ten months, post which the company will look to raise a much larger round (the exact range has not been decided as of now).
What's new?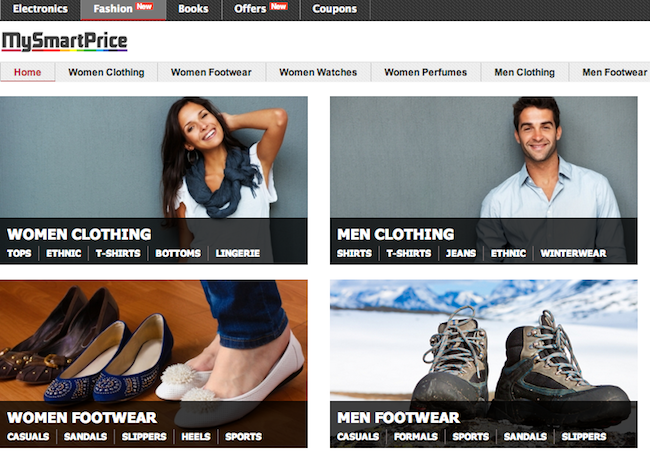 Although the company started with price comparison, it now wants to become a research portal for e-commerce that also offers price comparison. For doing the same, the startup has added a 'fashion' and an 'offers' category to the site. While the fashion category currently offers clothing, shoes, watches and perfumes, other products like sunglasses etc. will also be added in the future. For the new category, the focus is not on price comparison (since unlike mobile phones the same products are not available on all the sites), rather product discovery. For example, if you search for Adidas running shoes, you will find all the shoes from the brand that are available across the sites, providing a wider selection to the user. An 'on-sale' tab also offers information on all the products on sale on all those sites.
The offers section basically provides discount information on all available stores. So if you select a particular brand/store/product category, it will show you all the products that come with an offer across the stores.
"Earlier, the focus was to offer our customers the best price for products, now we want them to discover new products at the best price," said Ray.
It has also upgraded the price comparison engine. If you now select a mobile phone, the vendors are not listed based on prices alone. "We realised that the customers are not only concerned about prices, but brand trust and shipping time also plays an important role. For the same, we sorted the vendors according to the user behaviour and preference," he said.
The product comparison engine has been improved as well and apart from a straight spec-to-spec comparison, it now also offers detailed information (like four reasons to choose the product, one reason not to, etc.) on the key features of the products. You can also set a price-watch on your favourite products.
Revenues and competition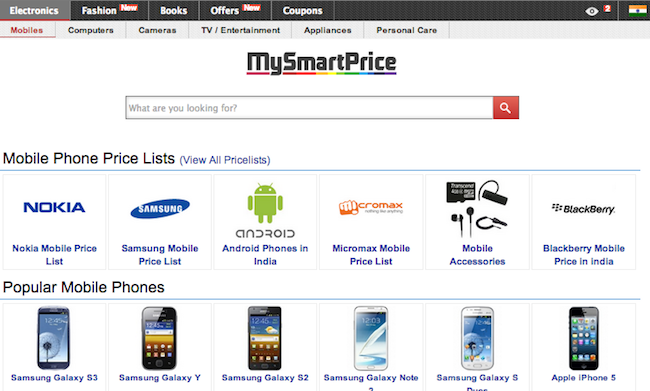 As of now, the site is offering information on books (9 sites), electronics (20 sites) and fashion (9 sites)- overall 30 sites, considering some overlap between the categories. For revenues, the company is still focused on paid ads and a percentage share from the sales that the Mysmartprice.com generates for the e-commerce sites.
In India, the site competes with a number of websites that offer price comparison which include niche players like Thisyathat.com and IndiaBookStore.net (for books) and PhoneCurry.com (for mobile phones) and iShopper.com and the recently launched Shoppingwish.in, among others. But the most prominent rival is Amazon's (the world's largest online retailer) Junglee.com, an online shopping service that enables customers to find and discover products from online and offline retailers in India and also from the parent site Amazon.com.
What's in store?
The company will focus on a number of things for this year, which includes adding more categories to the mix and increasing the number of available stores on the site.
"We will also focus on mobile in a big way. We already have a WAP site and are getting around 20 per cent of our total traffic from there. We have also launched an Android app and will look to do more on mobile since that is where the future is," said Ray.
So what is the biggest challenge for the company, "Hands down getting a good team together. All the other challenges become superficial once you have a strong team in place, this is one of the reasons we are building the team at such a slow pace," Ray said.
---