Mumbai-based Just Dial Ltd, which runs an India-specific local business listing site Justdial.com, has quietly introduced a new feature which allows users to from restaurants listed on the site and get it home-delivered.
In March this year, Techcircle.in had first reported that Just Dial is working on such a move that will enable consumers to use its mobile/web platform to place orders for home delivery of food. At the time, sources had told Techcircle.in that Just Dial will manage the call centre for the restaurant chain and is expected to get around 5 per cent of the order value as its commission. This would add a new revenue channel for the firm that went public recently.
The service is currently available in over a dozen cities that include Ahmedabad, Bangalore, Chennai, Coimbatore, Delhi, Faridabad, Ghaziabad, Gurgaon, Howrah, Hyderabad, Kolkata, Mumbai, Navi Mumbai, Noida, Pune and Thane. It is not immediately clear whether the firm has partnered with any logistics services firm for last-mile delivery.
We have contacted the company for more details and are awaiting its responses. We will update the story as soon as we get the details.
As of now, users can place the order and choose the date and time of the delivery. Post that, users get the order summary in the form of an SMS/e-mail, and the food is delivered at the address given by the customer, who can pay by cash on delivery. As per the company website, the delivery is free of cost and the service is available round the clock. One can also view their order history and reorder the same food items. Users can also order the most popular dishes of the restaurant that are mentioned in their "most ordered items" section.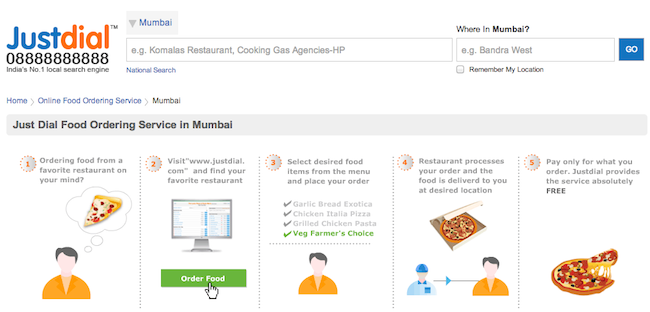 With this service in place, Just Dial will soon lock horns with ventures like Foodpanda.in, JustEat.in and Tastykhana.in – online platforms for ordering food for home delivery. In comparison with competitors, Just Dial scores big in terms of its reach, which is much broader compared to these specialists that are present in only a select few cities in the country.
Also, now that Just Dial has officially started with a food ordering service, what"s stopping it from acquiring one of the startups in the online restaurant reservation space to expand its offerings. The company definitely has the wallet to make an acquisition; the only thing required is the intent. You can read more on that here.
Founded by VSS Mani in 1994, Just Dial is a local search firm that provides listings of small and medium businesses across the country. It provides its services across multiple platforms including the internet, phone, wireless and print. The company claims to be catering to more than 57 million users but consumers / end-users don't have to pay to access these listings.
As of June 30, 2013 the company has approximately 9.5 million listings. The firm recorded a 69 per cent increase in net profit for the quarter ended June 30, 2013, backed by strong revenue growth driven by mobile-based search. The firm's search service is available to users through multiple platforms, including internet, mobile internet, voice call and SMS. It received approximately 115.2 million search requests in Q1.
---