India added 40K broadband subscribers in May; number of users up 0.23% to 15.13M

India added 40,000 broadband users in May, up 0.23 per cent over April to take the total base of high speed internet to 15.13 million at the end of the month, as per the latest data released by Telecom Regulatory Authority of India (TRAI).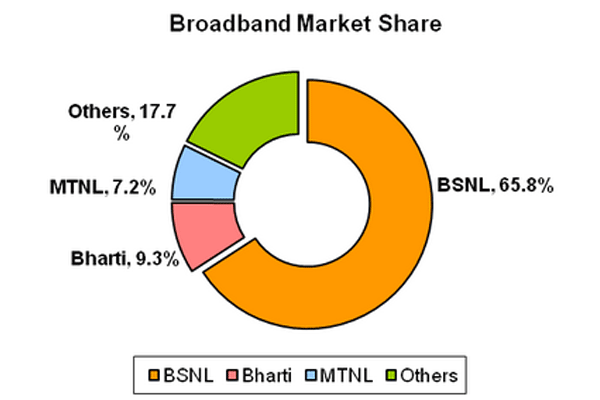 The net monthly additions have been around the 40,000-50,000 mark for the last few months. Given that the base has been expanding, it implies that the growth rate for monthly addition of new subscribers has slowed. Year-on-year growth in broadband subscribers was pegged at 5.75 per cent over May 2012.

Earlier this month, TRAI came out with another datasheet that talked about mobile internet users and mobile subscribers. The data revealed that internet subscribers in India grew to 164.81 million as of March 31, 2013, with as many as seven out of eight net users in the country accessing the service via their mobile phones. The latest numbers for mobile internet users are not available as yet.
Mobile number switching
Overall telephone subscribers in the country increased to 900.05 million at the end of May 2013, from 897.02 million at the end of April 2013, showing a monthly growth rate of 0.34 per cent.

Mobile number portability (MNP) requests increased from 91.73 million at the end of April 2013 to 93.56 million at the end of May. In May alone, 1.83 million requests were received. Of the two zones, zone 1 (northern and western regions) saw the maximum number of MNP requests in comparison to zone 2 (eastern and southern regions).
Wireless vs wireline
While the number of wireless subscribers increased from 867.02 million in April 2013 to 870.20 million at the end of May 2013, the wireline user base declined from 29.99 million at the end of April 2013 to 29.85 million at the end of May 2013.

(Edited by Joby Puthuparampil Johnson)
---