Google now offering Hindi handwriting support for Search, Translate & Chrome browser
Search giant Google has launched beta support for Hindi handwriting on Android devices as well as for its Chrome browser. The company already has a Google Hindi input keyboard available in Google Play store, and it had also added support for Hindi as well as other languages (such as Afrikaans, Amharic, Swahili and Zulu) in Android 4.3, which allowed users to change the smartphone's interface in the language of their choice. Read more here.
The new Hindi handwrite features have been developed in collaboration between teams across Bangalore (India), Zurich (Germany) and Mountain View (US). Here is a look at what's new:
Google Search
Users can now search by writing letters in Hindi with their fingers or stylus anywhere on the device's screen, without the need of an on-screen keyboard. For doing the same, users will need to go to the Google site in their mobile phone's browsers, enable the 'Handwrite' feature and change language in Google products to Hindi. You will also need to add Hindi as a language of search results. On tablets, the search settings are available as an option behind the gear icon.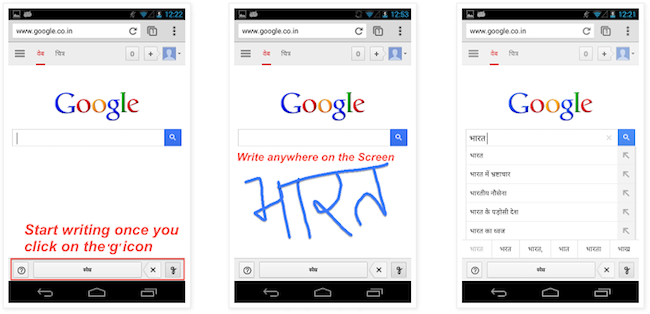 Once the feature is enabled, users can tap the Handwrite icon on the bottom right corner of their screen to activate the feature. Write a few letters and Google will display autocomplete options below the search box. For longer queries, users can continue writing a string of characters. Handwrite is enabled for Android 2.3+ phones, Android 4.0+ tablets and for iOS5+ devices.
Translate for mobile
For accessing the same, users will have to download the Google Translate app from Google Play store. Apart from the already available languages, users can now enter Hindi text (using handwriting) that they want to translate and they will be able to view translated results. A similar input experience is also available when you translate from Hindi on translate.google.com, although that is available only on desktops / laptops.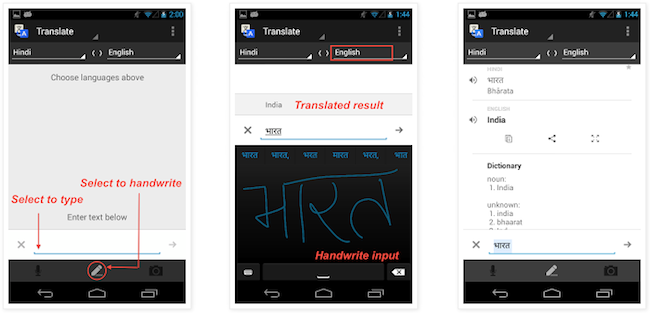 Chrome
Users can also Handwrite Hindi script into any site on the web using the Google Input Tools Chrome Extension, which can be found / installed from the Chrome Webstore. Once installed, whenever users activate the same on their computer's trackpad, it will be turned into a writing pad- to allow users to write Hindi script using freehand. The tool will recognise the user's handwriting and convert it to text, which can be inserted into text fields on any website.
"It has often confounded us that less than 10 per cent of internet usage is in Indian languages while in the offline world more than 90 per cent of newspaper readers or TV viewers are using these media in Indian languages. These are baby steps to make the Hindi internet simpler to use," wrote Lalitesh Katragadda, head of product for India at Google, in an official blog post.
Recently, handset manufacturer Samsung had launched its user interface (UI) for select Galaxy smartphones and tablets in nine Indian languages including Hindi, Punjabi, Bengali, Tamil, Telugu, Kannada, Malayalam, Marathi and Gujarati. For the same, it has partnered with Bangalore-based Reverie Language Technologies, which makes text communication possible in 32 languages via instant transliteration and facilitates it across digital platforms and devices.
Comment(s)