India's internet population witnessed a 31 per cent year-on-year increase to 73.9 million at the end of March 31, 2013 compared with 56.3 million in the year-ago period. The preferred medium to surf internet and consume information online also changed from PC to mobile, according to the study '2013 India Digital Future in Focus' by comScore. The study also claims that India is now the world's third-largest internet population in terms of numbers.
The study also revealed that India overtook Japan to become the number two country in terms of internet population in the Asia-Pacific region. Last year China led with 55.2 per cent, followed by Japan with 12.2 per cent and India represented 9.3 per cent. This year, India's share increased to 11.5 per cent while Japan's went down to 11.4 per cent. Though China still leads with a healthy 54 per cent, it saw a decrease in its share.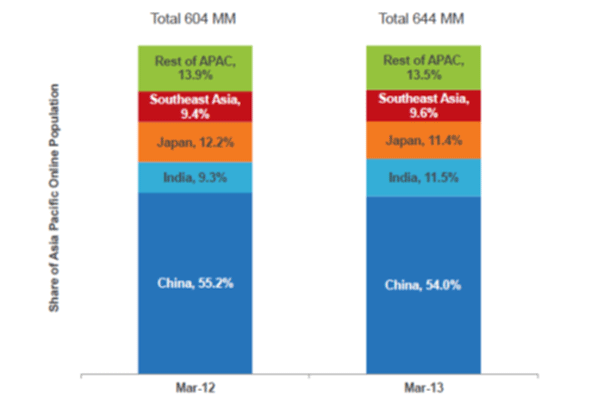 PC v/s mobile
India's non-PC traffic grew to 14.2 per cent in March 2013 from 10.9 per cent during the same time last year. Traffic via mobile was the highest in the country, followed by PC and tablets. Interestingly, majority of internet users were consuming data via Wi-Fi, while only 23 per cent were using cellular data, showing consumers are still not comfortable with paying for data (probably due to high tariff and connectivity issues). This could change going forward when 4G comes in the picture.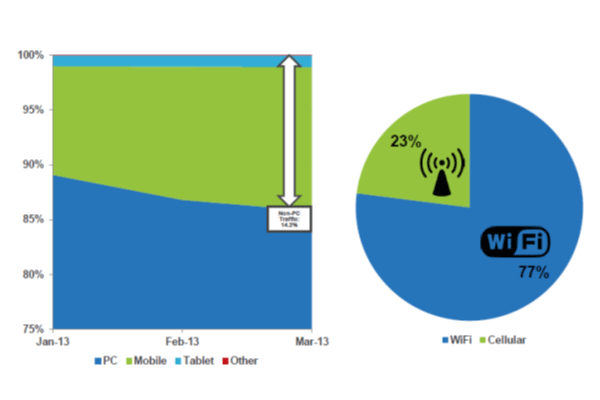 Myntra leads with most number of users; Flipkart gets highest per-user engagement
As compared to other markets in the BRIC region, India's online retail market is pretty underdeveloped. While worldwide the penetration of retail category stands at 74.4 per cent, in India it stands at 60.3 per cent. China has 84.1 per cent penetration of retail categories.
Among the major e-commerce companies In India, fashion and lifestyle portal Myntra.com has emerged as the most popular with the highest number of unique visitors. However, the users spent the longest amount of time on Flipkart (16.2 minutes per visitor) followed by Snapdeal (7.8 minutes) and Amazon sites (7.6 minutes).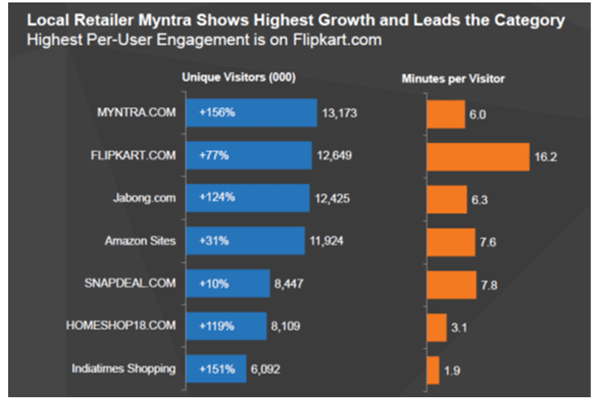 In terms of individual categories, apparel continues to lead, followed by computer software, comparison shopping and electronics, in that order.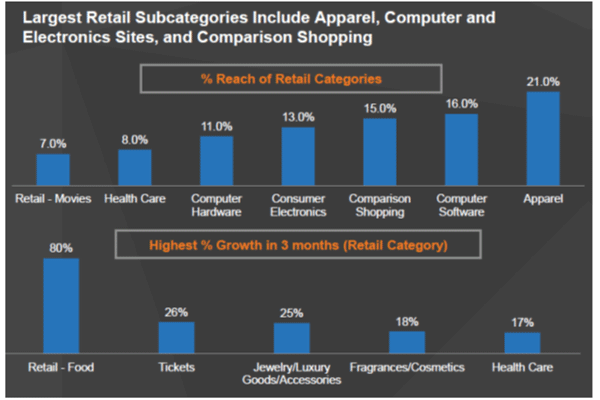 Indians like travelling
Travel sites got the most amount of users with the penetration of online travel sites being the highest in India in BRIC region as well as worldwide. While globally the reach is 36 per cent, in India travel sites' reach was 38 per cent. Average time spent on travel sites was also the highest in India at 26.7 minutes, followed by Russia (25.9 minutes), Brazil (15.9 minutes) and China (15.4 minutes).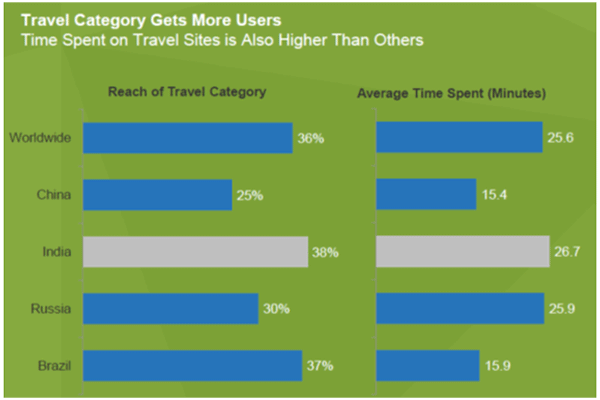 IRCTC led the pack with 13.6 million unique users among the homegrown players. IRCTC and Indiarailinfo also had the highest user engagement with each user spending 25.2 minutes on both sites. Interestingly, while all OTAs saw positive year-on-year growth, the penetration of unique users for Yatra.com and Cleartrip.com slipped by 49 per cent and 35 per cent, respectively.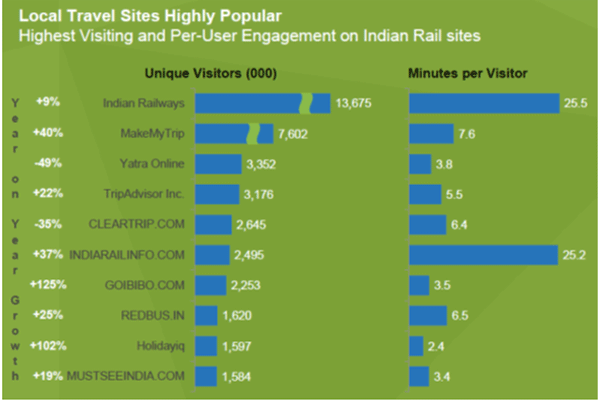 Other highlights
Women aged 35-44 are the heaviest internet users among all age/gender groups.
Indian blogging audience grew 48 per cent to close to 36 million; 26 per cent of the total blog traffic came from mobile and tablets.
On an average, 217 minutes or over three-and-a-half hours are spent on Facebook every month by Indian users.
Over 54 million Indians watched online videos on their PCs, a 27 per cent increase year on year.
(Edited by Joby Puthuparampil Johnson)
---