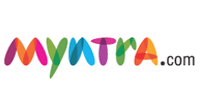 Bangalore-based Myntra Designs Pvt Ltd, which runs the lifestyle e-commerce site Myntra.com, claims to be clocking gross merchandise value (GMV) of Rs 60 crore on a monthly basis. The company was looking to double sales to Rs 800 crore in FY14, and according to Mukesh Bansal, co-founder and CEO, Myntra, it can surpass the target.
"We are on track and can even exceed the Rs 800 crore target. We are already doing around Rs 55-60 crore of gross sales on a monthly basis," said Bansal. "Currently, the online fashion market (on the basis of run rate) is close to Rs 2,000 crore, and we have leadership position with roughly around a 30 per cent market share."
According to Bansal, the site is currently getting 15 million visitors on a monthly basis, and is doing around 12,000-13,000 transactions daily. The top selling categories for the company remains sports and casual wear, while the fastest growing is ethnic wear and accessories, primarily because of the increasing number of women shoppers on the site. As of now, the site is offering close to 600 brands and over 50,000 SKUs while an addition of 25 per cent happen every month as fashion is a fast moving category.
Interestingly, while Delhi, Mumbai and Bangalore remain the top individual cities for the company, tier II cities are growing a lot faster (than the top 10 cities) and total revenues from them have already surpassed the 53-54 per cent mark and continue to rise. Mobile is also growing at a very fast pace for Myntra; it accounts for 20 per cent of the total traffic and 15 per cent of revenues.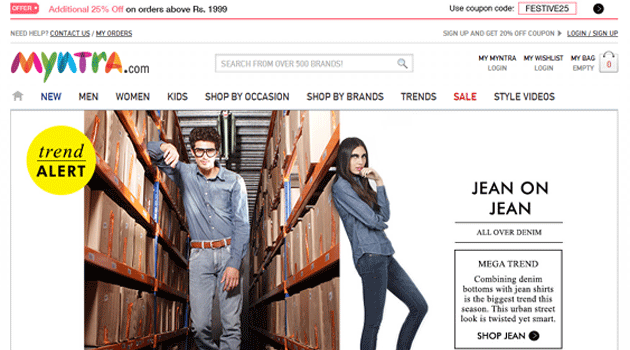 Exclusively.in and Fitiquette integration
In less than a year, Myntra has made two acquisitions—it acquired Exclusively.in Inc., the company behind the private label brand Shersingh.com and the fashion site Exclusively.in, in a cash-cum-equity deal, for an undisclosed amount in November 2012, post which it snapped up San Francisco-based virtual fitting room startup Fitiquette for an undisclosed amount in April this year.
The company has completed the integration the Sher Singh brand with its own portfolio of private label brands, and is coming out with a new range of Sher Singh branded apparels. While the founders of Exclusively.in were with the company in the transition period, they have now moved on and are no longer a part of Myntra.
In comparison, Fitiquette is being integrated in phases, and as part of phase one, it is already powering the technology used behind the sizing of products on the Myntra site. The company is also looking to add more visualisation to the same.
After absorbing the key resources of both Exclusively.in and Fitiquette, the Myntra team now stands at 1,200, and the company is looking to increase this number to 1,500 by year-end.
Focus on private label and acquisitions
The company is increasingly focusing on its private label portfolio, which already accounts for 15 per cent of its total revenues, and is growing quarter over quarter. According to Bansal, its own private label brands Roadster and Dressberry are doing pretty well, and the company is also planning to launch a new ethnic brand going forward.
Myntra is also open to acquisitions, and is in fact in talks with potential acquisitions. Without naming the same, Bansal said the company may make an acquisition (of a firm currently active in the e-commerce space) in three-six months.
Return rate and logistics
As of now, Myntra uses a mix of company owned as well as third-party logistics for its deliveries. However, there are no plans to completely outsource deliveries; instead, it plans to enhance company owned logistics over time.
"We have seen wherever we deliver ourselves, the deliveries are faster, cheaper, have a lower return rate, and offer a better customer experience. We will continue to do the same. Also, in any city where we reach 100 orders per day run rate, we will start our own logistics," said Bansal.
For Myntra, the return rate percentage for orders is 12 per cent which has been constant. The company is comfortable with the number (considering half of this is COD returns), as long as it does not increase, and is also trying to lower it even with new initiatives like 'product exchange offer' (read here for more).
(Edited by Joby Puthuparampil Johnson)
---