Amazon adds toys & baby products, personal care appliances for India marketplace; home & kitchen to follow

Amazon.in, the marketplace launched in India by Amazon Seller Services Pvt Ltd, part of the world's largest e-commerce firm Amazon.com, has added two new categories to its offerings – toys & baby products, and personal care appliances. The marketplace had kicked off earlier this year with just two categories – books and movies & TV shows.
The baby store offers products across a wide range of categories including nursing & feeding, nursery furniture, diapering & nappy changing, baby care, baby & toddler toys, prams & strollers, car seats and accessories. The brands offered on the site include Chicco, Hauck, Huggies, Medela, Nuby, Pampers, Pigeon, MeeMee, Johnson's Baby, Mamy Poko Pants, among others.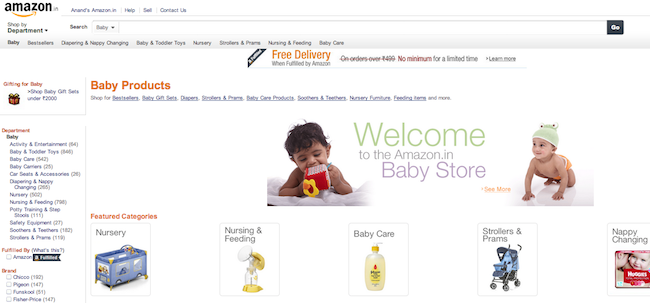 With the latest addition, Amazon will now compete with niche players like Firstcry.com, Hushbabies.com, Babyoye.com, Kidsoye.com, and Hoopos.com that are all focused on baby products, as well as Flipkart.com, which has also added baby care products to its site. In addition, according to Amazon.in, the next categories that will be added to the site will include home and kitchen.
According to Amazon, the personal care and health appliances store houses more than 1,100 products from over 60 brands in categories like hair dryers, hair straighteners, hair curlers and hair stylers, trimmers, grooming kits, electric shavers, hair clippers, power toothbrushes as well as epilators. The health care devices store has medical equipment like glucometers, blood pressure monitors, nebulizers, oximeters, thermometers, heart rate monitors, pedometers, weighing scales and electric massagers. Personal health essentials like heating pads, humidifiers, steamers are also available. Some of the brands we found on the site included Philips, Remington, Braun, Wahl, BaByliss, Omron, Rossmax, Dr Morepan, Accu-Chek, OneTouch, among others.
In this category, the company will face competition from Healthkart.com, Flipkart.com, as well as Firstcry's sister concern Goodlife.com, etc.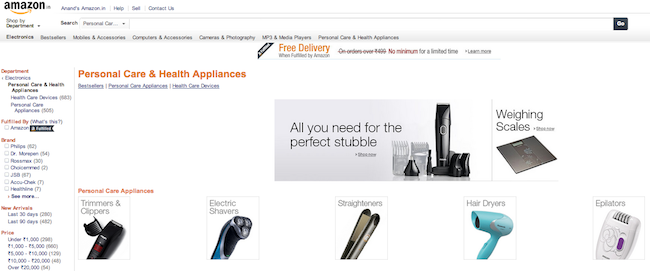 Note that in most countries where Amazon operates, a seller (of any size) who wishes to opt for 'selling on Amazon' service, can set up his/her own account and begin selling online on the Amazon platform. But in India, the company first evaluates a seller's ability to maintain high standards of customer experience and only then extends an invitation to the seller.
Although you will find a number of online marketplaces offering the same products, we feel that the key differentiators for Amazon will be global customer reviews (integrated with the categories) and its personalised recommendation engine. This is crucial as people looking to buy electronics, cameras or mobile phones refer to these reviews before making a purchasing decision.

The India-specific platform started in June 2013, initially launching just two product sections – books and movies & TV shows. Under the books' section, it is currently offering over 7 million printed books across 200-plus categories. Amazon followed it up by officially launching its Kindle tablets and e-book readers in India (note that the e-book readers were already available in a number of offline stores). The devices launched in the country included Kindle, Kindle Paperwhite (both e-book readers), as well as Kindle Fire HD 7 and Kindle Fire HD 8.9 tablets.
Post that, the company added three new categories to its offerings – mobiles and accessories, cameras & photography, and portable media players. Most recently, it added computers and accessories to its offerings. With the latest inclusion, there are now nine categories on offer including books & e-books, movies & TV shows, the Kindle family of e-readers & Kindle Fire tablets, mobile & accessories, camera & photography, portable media players and computers & accessories, toys & baby products, and personal care appliances.
---