Nexus Venture Partners-backed real estate portal Housing.com (earlier Housing.co.in) has added a 'price heat map' feature to its website. According to the company, the new feature will enable users to check prices of localities across a city on a map (see a sample map below). All the maps have been colour coded, with localities tainted in a gradation from red to green- to indicate high to low prices.
While users can get an indication of the price difference (of the localities) by simply looking at the map, they can also hover over a particular locality to find the average price of houses there. The maps have been generated by the company's Data Science Lab, which comprises of a team of data scientists who have studied price variable in markets of different cities, and come up with a simple graphic representation for the same.
"There are many ways to showcase insights on data. Visualisation is the most powerful way of doing that. We wanted people to be able to graphically see and compare prices within a city or an area of their interest," said Advitiya Sharma, co-founder, Housing.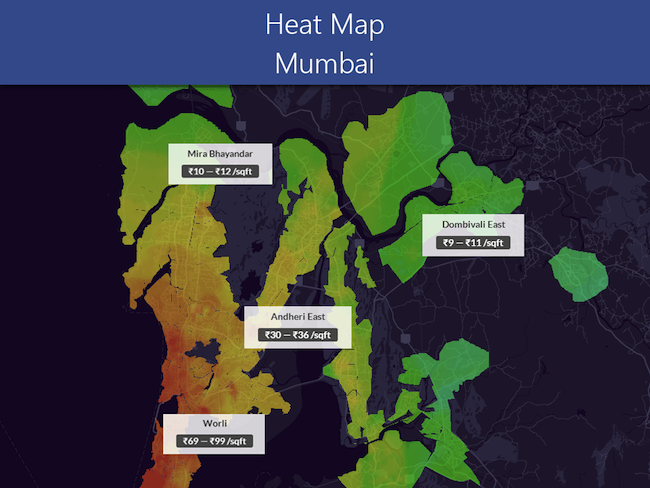 As of now, the maps are available for all the seven cities the company currently operates in. Users can check maps for both renting, as well as purchasing properties, and the map also allows them (the users) to choose the rate according to the square feet area or the number of rooms. Last we checked, the feature was working fine and showed accurate pricing for locations in Mumbai.
Housing was set up in 2012 by a group from IIT Bombay. The startup enables real estate brokers to upload unlimited listings on the site while users can search properties for free. The venture is owned and operated by Mumbai-based Locon Solutions Pvt Ltd and currently has 30 IIT graduates on board. The service is currently available in seven cities—Mumbai, Bangalore, Pune, Gurgaon, Chennai, Noida and Ghaziabad (a majority of which were added this year).
Last month, the startup had finally bought the Housing.com domain name as well as a national number 03-333-333-333, for a substantial sum of $1 million. According to Sharma the domain was purchased for over half that amount, while the rest was spent on getting the number. The company will continue to hold ownership of the Housing.co.in domain as well, and users trying to access the same will be redirected to the Housing.com site. The purchase was done as a first step for the company's international expansion.
Housing.com had raised $2.5 million in pre-Series A funding from Nexus Venture Partners in June this year. Prior to that, it also attracted two rounds of angel funding. In March 2013, the company raised angel funding from former Network18 CEO Haresh Chawla, immediately after securing an undisclosed sum from a group of angel investors, led by Zishaan Hayath, co-founder of the phone commerce company Chaupaati Bazaar, which was acquired by Kishore Biyani's Future Group a couple of years ago.
Apart from the price heat map feature, the site also offers options such as Housing lifestyle rating, locality score, society score, connectivity score and neighborhood score, among others. The company had recently appointed Richa Bansal, co-founder and managing director of online jewellery and fashion accessories retailer 21Diamonds.in, as its chief business officer.
---