Bangalore and San Francisco-based mobile ad network InMobi has launched InMobi SmartAds, a new ad format that will include live feeds into the rich media ads. This ad format aims to enable advertisers to deliver personalised ads to their users for better reach and response.
The company claims that InMobi SmartAds will enable media creatives to include feeds such as live stock prices, RSS news feeds, sports scores, or movie show times. In addition, the ads are influenced and triggered by behaviour based on the user context (location, weather conditions and more). For example, InMobi SmartAds can be used to increase the sale of movie tickets by displaying live movie show time feeds in an ad, or promote location based ads by displaying offers at a nearest store.
As of May 2013, the company's mobile ad network was reaching 691 million unique users per month across 165 countries via mobile devices (covering more than 40 per cent of smartphone users globally), over 16 per cent rise in the number of consumers from 578 million in January this year. Interestingly, India came third (with 49 million users) among the countries that have the largest number of monthly unique users for InMobi – after the US with 156 million (which is the clear leader) and China with 63 million users.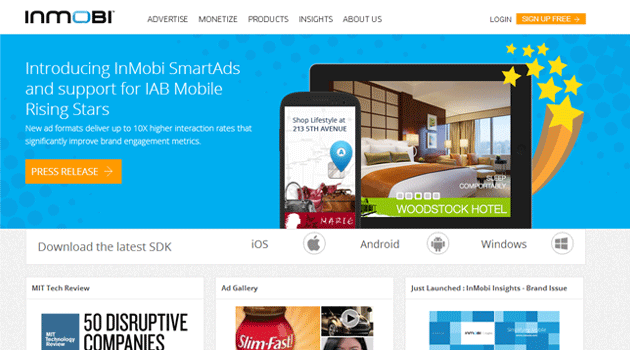 Set up in 2007, InMobi's platform enables brands, publishers and developers to engage with global consumers through mobile advertising. The company is backed by investors such as SoftBank Corp, Kleiner Perkins Caufield & Byers and Sherpalo Ventures.
---