ArtSquare seeks to build a launch pad for artists, brings over 1,100 to its online art gallery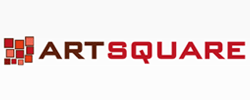 Online art platform ArtSquare provides a launching pad to artists who cannot go to traditional physical galleries to exhibit their art, either because these galleries are too expensive for them, or because such a gallery does not exist in their locality. In addition, since physical galleries are constrained by limited reach and time, ArtSquare offers them a gallery that is open 24x7, has unlimited space, and is completely free.
"I chose this category primarily because there is a gap between artists and art lovers today. At a time when the world uses the internet for practically everything, we wanted to harness its power to bridge this gap, and in turn help the talented artist pool of India. Moreover, today when someone wants to buy an artwork for their home, or as a gift, they have a very limited choice. And the common man doesn't really go to physical art galleries to buy artwork. Hence we wanted to offer both casual as well as serious art buyers a large collection of artwork at affordable prices," said Bhaskar Chattopadhyay, founder and CEO, ArtSquare.
In February this year, Chattopadhyay quit a 10-year old job in a US bank and launched the startup. Started with less than 50 artists and a handful of artwork, the site currently has over 1,100 artists who have contributed more than 2,000 artwork on the site.
The ArtSquare site
Artists can sign up for a free on the site and upload images of their artwork. Post that, a panel reviews them carefully and if accepted, the artwork is displayed on ArtSquare. Alternatively, buyers can visit the site and browse through a collection of paintings, sketches, drawings, photographs as well as digital art. All artwork has been categorised according to subject (abstract, animals, architecture, fantasy, etc.), shape (landscape, panoramic, portrait, square and tall) and medium (acrylic, charcoal, oil, pastel, etc.). In addition, it can be sorted according to popularity, newest, price, width and height. The site also offers a search engine that enables users to search for artwork by keyword, artist, subject or medium.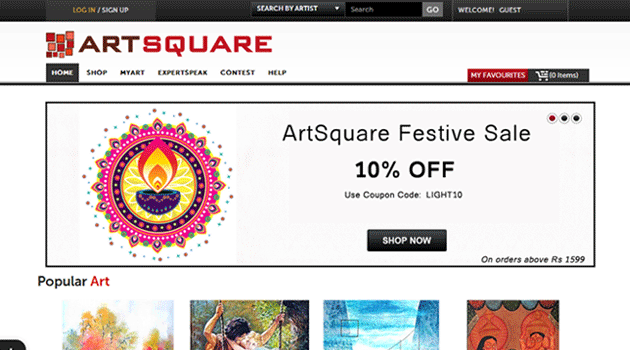 Also, for customers who want to decorate their walls with their personal photographs, the company offers something called 'MyART'. Using the same, you can upload your digital photograph and order a customised print of it on canvas or photo art paper.
You can also choose the size and the frame for the same. The site caters to both the affordable art segment (average value being Rs 2,500) and original painting buyers (average value being Rs 30,000). Once an artwork is selected, users can get them framed online, or do a live 'Room Preview' to see how their artwork will look on the wall of a room.
Apart from selling artwork, the company tries to position itself as a complete art portal. "We discuss important aspects of art, publish interviews of eminent experts from the world of art, talk about art history by revisiting the work of the masters and provide important news and information for those who want to build a career in art," said Chattopadhyay.
As of now, the company's primary target audience includes the homemaker, who buys framed wall art for purposes of home décor. It also focuses on the 'art collection vertical' (where customers buy artwork to add to their collection, or for investment purposes), and businesses and corporate houses. The company is also striving towards becoming a gifting partner, and has introduced features like choice of delivery date and ArtSquare Gift Coupons for the same.
Competition and challenges faced
In terms of competition, there are a number of other online art galleries that include Indian Art Collectors, Sen6, Fizdi and Best College Art, among others. We had recently profiled Best College Art in detail, read here for more on that.
"In my opinion, the biggest differentiator that sets ArtSquare apart is the content being offered on the site. The second big differentiator is in the fact that ArtSquare does not offer what I call 'manufactured art'. If you visit some of the local physical art stores or home décor shops, you will find the same kind of artwork in all of them. Some of the art websites also offer the same, unfortunately."
The biggest challenge faced by the company is the fact that art in India is still considered to be something that is not for the common man. The other big challenge is the accurate representation of an artwork through the internet.
Fundraising and expansion plans
The company generates revenue from art print sales, commissions on sale of original artwork, and 'MyART'. It also plans to launch 'ArtSquare Red Carpet'—an exclusive, invitation-only online exhibition of the artwork of eminent artists. Mumbai, Delhi-NCR, Pune and Chennai are the top cities in terms of orders, and the single most expensive painting sold on the site was priced at Rs 75,000. According to Chattopadhyay, the company broke even within the first three months of starting operations, and is currently clocking monthly average revenues of Rs 1 Lakh.
All artwork are delivered within four-five business days, and while the fulfillment process is mostly outsourced at the moment, the company plans to insource some of the steps, as it expands.
Bootstrapped till now, the company is now looking to raise its first round of funding. The company wants Rs 2 crore that will be used to scale up operations. Headquartered in Bangalore, the company plans to set up a few zonal offices, as well as expand the team. In addition, it is looking to go international by starting operations in Southeast Asia, the Middle East and the US.
(Edited by Joby Puthuparampil Johnson)
Comment(s)