Owned and operated by Gurgaon-based Insignia Art Collect Pvt Ltd, BestCollegeArt.com wants to give a voice to budding artists in India, as well as make art affordable to collectors in the country.
"I have been an art collector for a number of years now; whenever I was buying art, I observed that it was only the top 10-15 artists in the country were getting consumer eyeballs and making sales," said Kapil Chopra, founder, BestCollegeArt, and group president (for India), The Oberoi Group. He started the venture in his personal capacity.
He said every year over 1,200-1,500 artists pass out from various colleges and art schools, but they eventually give up their hopes and dreams to take up small jobs because of lack of exposure, little or no sales, and because they do not have a platform to showcase their talent. "But while people lament the system and the government, they do not take any measures personally. It is with this thought that I started BestCollegeArt."
The BestCollegeArt site
Artists can upload up to five works (no minimum limit)—including photographs, paintings, sculpture, prints and works on paper—at a time on the site, which is displayed on it for four months. Post that, all designs are deleted and the artists can upload new ones (again the limit is five), ensuring that new art is always added on the site.
Uploading is free; however, for every art sold, the company takes a 40 per cent cut as operational expenses (for running the site, sales and marketing, paying salaries, etc.). "I have never drawn a salary from the company and we don't take any profits; everything we make is invested back to fuel growth, apart from paying salaries of the seven-member team," said Chopra.
For sales, the company follows a hybrid online + offline model, where collectors can buy directly from the site, or purchase artwork at one of its offline art shows (the company does around six in a year). As of now, online only constitutes of 25 per cent of the total sales, while the rest is a mix of people selecting products online and buying them offline and pure offline purchases.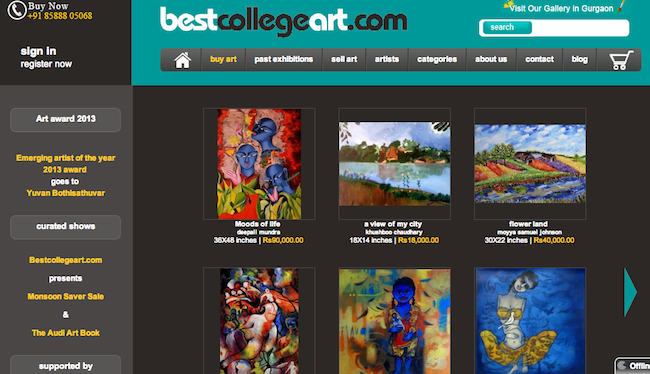 In addition, to give critical acclaim to artists who are better than the rest, the company has also introduced an 'emerging artist of the year' award in partnership with liquor brand Glenfiddich that provides a Rs 10 lakh cash award, a three-month stay in Scotland and a solo show at Nature Morte, a leading art gallery in Delhi-NCR owned by American artist and art curator Peter Nagy.
Artists have freedom in terms of pricing, but it has to lie in the range of Rs 1,000 to Rs 2 lakh. The company, however, does advice on pricing if a work is over-priced. It does not hold any inventory; it instead procures the artwork work from the artist once it is sold. Artists are paid within 30 days after the artwork is picked from them.
Revenues and transactions
Started in September 2010 with an investment of only Rs 3 lakh, in its first year of operations, the company claimed to record revenues of Rs 82 lakh, increasing it to Rs 1.3 crore in the last financial year. It is now looking to grow 40 per cent this fiscal to Rs 1.8 crore in revenues. According to Chopra, the company has sold 800 artworks to date, and is currently selling a work a day. Apart from India, the company is seeing purchases from markets like Switzerland and Dubai (by non-Indians).
The site is getting around 80,000 visitors a month (a limited number since it is a niche e-commerce site), and at any given time, artwork from around 600-900 artists is displayed on the site. All artwork on the site is exclusive to it, since artists are not allowed to display the same anywhere else (for the duration of four months).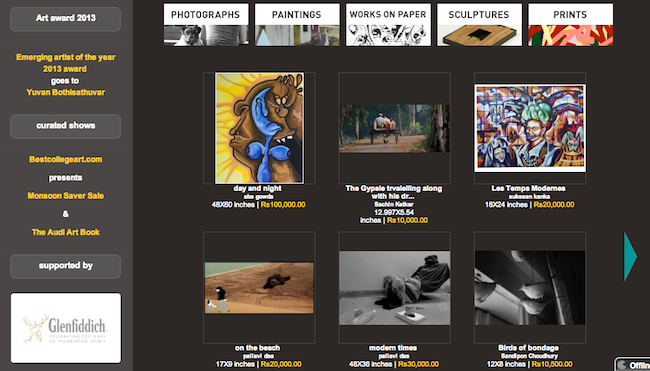 BestCollegeArt promises delivery within seven days, and for logistics, it has partnered with United Arts Logistics (for both India and abroad) instead of the regular ones, since art needs special handling. It also offers a buyback option for regular buyers (collectors making at least three purchases a year), according to which they can return any one of the artwork bought from the company and in return get the entire amount they paid for that particular work.
Why the name BestCollegeArt?
"All of us are continuously learning in our lives and are always in the 'college of life'. Hence artists, no matter when they passed out, are always welcome on the site. We are not a site for students in art colleges, on the contrary, most of our artists are much older and the median age is close to 30," said Chopra.
Other ventures

The Wall: The parent company has also launched an online monthly art magazine called Thewallartmag.com and claims to have a reader base of 10,000 for the same. While subscription to the magazine is free of cost for readers, for revenues, the company looks at advertisements. According to Chopra, the new venture has also achieved profitability.

Charitybeds: The company also operates a not-for-profit website called Charitybeds.com that provides updated information on availability of medical facilities in the Delhi-NCR region. "According to a Supreme Court order, over 43 hospitals are supposed to provide free beds to poor patients in the country," said Chopra.
The site offers information like names, addresses and contact details of hospitals in the region, along with an updated list of the number of beds currently available in those hospitals. Users can also search for hospitals according to area or specialty.
What's next?
The company is planning to launch a new high end art portal called ArtDistrict13.com- that would be more of an offline cum online venture, with offline primarily focused on the high end luxury space- in six months, which will help 'select' young artists in the country take their work to the next level. "If BestCollegeArt is an incubation portal, ArtDistrict13 will feature the cream of the artists that are chosen from it," said Chopra.
It is also planning to completely revamp the BestCollegeArt website later this month, and going forward could also look at the art gifting sector. Also, while the company does not have any fundraising plans as of now, since it is profitable (with money in the bank and internal accruals), it could look to raise funding to expand into other markets like Dubai and Europe, in order to take Indian art to a global stage.
(Edited by Joby Puthuparampil Johnson)
---