Starsports.com to enable Twitter users to view videos without leaving the social site
Star India's sports website Starsports.com has announced a partnership with Twitter to enable users of the micro-blogging site to directly watch videos without leaving the social site.
The service will be first rolled out for videos that form a part of the Sachin Memory Project, an initiative by starsports.com to commemorate Sachin's retirement. Over a 100 curated videos dating back to the 1980s will be made available as part of this initiative, the company said in a press release.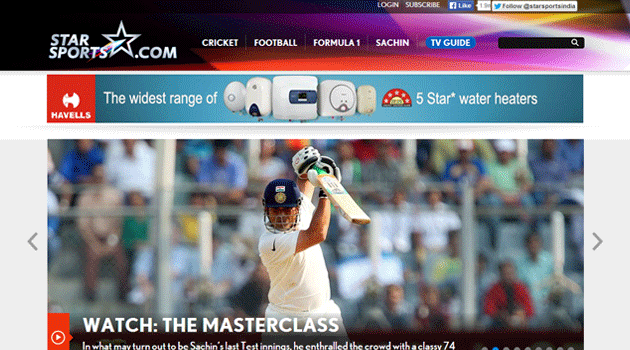 "Twitter is a real-time information network where users consume content that is live, public, conversational and mobile. In India, Twitter has brought our users closer to the best of national and international sport," said Twitter's India market director Rishi Jaitly.
"Starsports.com is a leading multi-sports destination on digital in India. Making sports videos available for easy consumption will improve the nature of the social conversation around sports in India," said Ajit Mohan, head of digital business, Star India.
Launched in June this year, Starsports.com site offers sports-related content, news, videos and TV listings for football, cricket and other sports. In September, Starsports.com introduced a subscription-based service for live streaming on its site.
(Edited by Joby Puthuparampil Johnson)
Comment(s)