BookMyShow bags exclusive ticketing rights for ICC Twenty20 world cup 2014

Mumbai-based Bigtree Entertainment Pvt Ltd, which runs ticketing portal BookMyShow.com, has been appointed the authorised ticketing agent for ICC Twenty20 world cup 2014, to be held in Bangladesh. The portal was selected by the International Cricket Council (ICC) and event host Bangladesh Cricket Board (BCB), and the event will be staged from March 16 to April 6, 2014.
Speaking on the appointment, Campbell Jamieson, ICC's general manager–commercial, said, "We are happy to be working with BookMyShow.com on an event like the ICC Twenty20 world cup 2014. BookMyShow.com has a global reach and I am sure it will allow us to reach out to maximum cricketing fans across the world."
Tickets can be purchased on BookMyShow.com or the ICC site. They can also be bought through any of the 95 retail outlets (covering 64 districts of Bangladesh) set up by BookMyShow in association with Moneygram. All ticketing platforms provide real time ticketing and seat selection, and while online ticket purchases must be paid for by credit card, the ticket outlets also accept cash.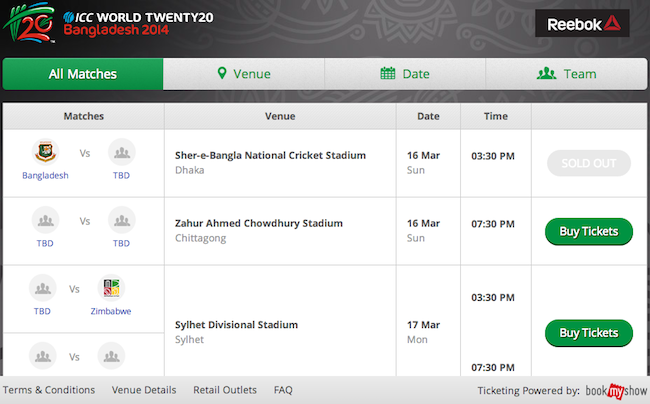 Both online and offline ticketing has gone live in the first phase (rolled out earlier this month), and will remain open till December 31, 2013. This will be followed by a second phase that commences on February 1, 2014. Interestingly, when we checked last, all tickets—except for the Zimbabwe matches—were sold out on the portal.
"It's always exciting to work on cricketing events, as the sport has such a vast fan base. We sold over a lakh tickets within half a day of sales opening," said Ashish Hemrajani, founder and CEO of BookMyShow.com.
BookMyShow claims to be getting over 70 million page views on a monthly basis, and is selling more than 3 million tickets per month. Currently, the site offers tickets for over 2,000 screens spanning across 500 cinemas in more than 150 cities. In addition, it also offers tickets for over 1,000 events (on a yearly basis), and sporting events like Formula 1, IPL, and Aircel Chennai Open, etc. Headquartered in Mumbai, BookMyShow also has offices in New Zealand, Malaysia, Australia and the UK.
In July this year, BookMyShow.com had signed a five-year deal to be the online ticketing partner for PVR Cinemas across India. Prior to that, it had acquired Ticketgreen.com, an entertainment ticketing portal mainly catering to the south Indian market, for an undisclosed amount.
(Edited by Joby Puthuparampil Johnson)
Comment(s)