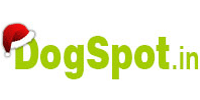 Petsglam Services Pvt Ltd, the Gurgaon-based company that owns and operates DogSpot.in, an online platform for all dog needs, is looking to raise up to $5 million in funding for further expansion. Currently, DogSpot is doing around 4,000 orders in a month with an average basket size of Rs 1,300, which makes its monthly GMV to be around Rs 52 lakh.
Launched by the husband-wife duo Rana and Vizal Atheya in September 2007, DogSpot started out as a blog for all information and content needs for pet owners. "E-commerce happened in 2011 but even post that content has always been our strong focus," said Rana. He said the company has always maintained its focus on social commerce and that is what is driving the growth. "While e-com is our source of revenue, but our content and information drives the traffic."
DogSpot offers products across 11 categories (which are further divided into sub-categories) such as foods & treats, puppy care, collars & leashes, dog toys, accessories, cleaning, grooming and training. It claims to have more than 1,200 products from over 50 brands like Pedigree, Royal Canin, Drools Dog Food, Petdig, Durapet, Jerhigh, Frontline, Karlie and DogTec. For logistics, the company has partnered with Blue Dart, Delhivery, Speed Post and DTDC.
The new features that have been added on the site recently include breed selection engine, product recommendation engine and Wag Club where pet owners can create a dedicated page for their pets, add pictures and interact with other pet owners as well. "Wag Club helps us sell targeted products to pet owners as we get an insight about what kind of lifestyle and choices they have," Rana said. Going forward the startup is also keen to build its private label PetSpot further.
The promoters had also launched a similar portal for fish called FishSpot.in, and are now looking to launch a third portal CatSpot.in next month. "FishSpot is growing at about 15 per cent month on month. In addition, the cat category (on DogSpot) is also growing 26 per cent month-on-month," said Rana. On the strategy behind launching different portals for different pets, he said, "When you are doing a content-based play you can't have an umbrella site. We would be doing the same customised content initiatives at CatSpot.in that we do for DogSpot."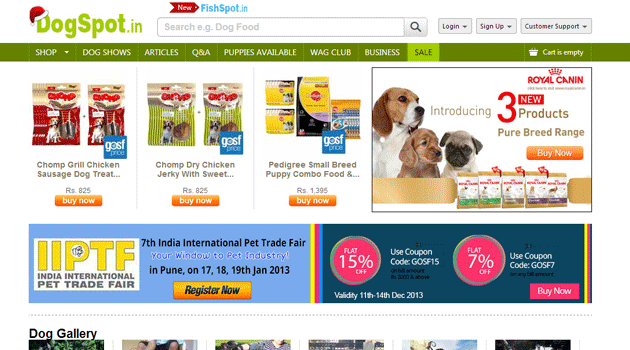 The startup is backed by early stage seed fund India Quotient from whom it raised an undisclosed sum in February this year. Earlier, in 2011, the firm had secured seed funding from Vikas Saxena (CEO of Nimbuzz), Vaibhav Gadodia (vice-president – tech at Nagarro) and telecom consultant Ritesh Chauhan. It also raised an undisclosed amount from Tanjai Ventures and Kibo Partners in September 2012.
Though the site has various other services like business listings, Rana maintained that being in a niche segment the scope is limited. "We keep analysing business listings and other possibilities but our major revenue engine will always be e-commerce. Maybe two-three years down the line we can start looking at premium listing, but before doing B2B we need to scale the consumer side first."
However, this does not mean that the company is not looking at alternative revenue streams. "We see a huge potential around subscription, wherein users can subscribe with us for monthly supplies of dog food or other stuff for their pets." The focus areas for 2014 will be building its private label, branding and exploring subscriptions.
In terms of challenges, Rana said being in a niche segment where the market is not very organised is both a boon and bane. "Because the market is unroganised, we don't face much competition; but being a niche, scaling up will take its own time. We don't see much competition, in fact there are places where there are no physical pet stores and the pets might die without us," he said.
(Edited by Joby Puthuparampil Johnson)
---