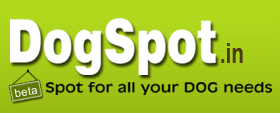 Petsglam Services Pvt Ltd, the Gurgaon-based company that owns and operates DogSpot.in, a one-stop online platform catering to all 'doggie needs,' has raised an undisclosed amount from early-stage investment fund India Quotient. Although details of the funding were not disclosed, the Mumbai-based fund usually invests around Rs 20-200 lakh and picks up 10-25 per cent stake. It mostly focuses on early-stage startups that are still discovering a revenue model, pricing, product or strategy.
The money raised by the company will be used for further development (new sites, apps, etc.) and also for expanding its own range of products. DogSpot already has a private label up on the site, called PetSpot.
"The private label is necessary because there are no dominant brands for dog products in the market," said Rana Atheya, founder of DogSpot.in. "Ask anyone to mention five popular brands and they won't be able to go beyond Pedigree or Royal Canin. And that creates a very large market opportunity for us. We already have our own brand and going forward, we will invest in growing it further," he added.
Going forward, the company is planning to launch FishSpot, a sister concern of DogSpot but essentially focusing on fish products. The new site will be live by March this year while another site called CatSpot (for cat products) is also in the pipeline. The company already has a WAP site, but it will launch its Android and iOS apps within the next three months.
DogSpot was launched in September 2007 by the husband-wife duo of Rana and Vizal Atheya. Initially launched as a blog, they started the e-commerce part of the business much later – only in August 2011. The firm's current team size is 18.
According to Rana, DogSpot has already delivered more than 15,000 orders across 950-plus cities in India and the current revenue run rate is over Rs 2.4 crore per year. The top five cities (in terms of orders) happen to be Delhi-NCR, Mumbai, Bangalore, Hyderabad and Chennai, but the company is also witnessing growing consumer interest in tier II and tier III cities like Jabalpur and Surat. As of now, the site features more than 20,000 active pet lovers and has answered over 2,500 queries from them.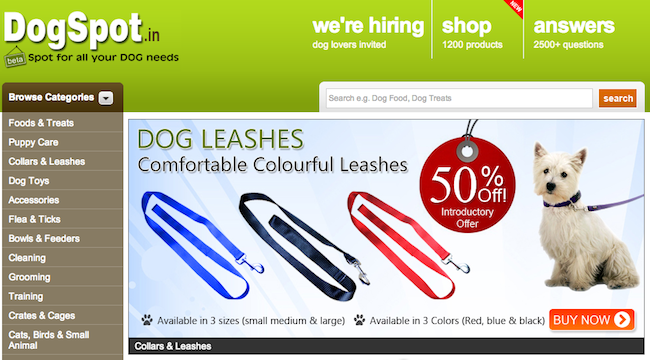 DogSpot offers products across 11 categories (which are further divided into sub-categories) such as foods & treats, puppy care, collars & leashes, dog toys, accessories, cleaning, grooming and training. It claims to have more than 1,200 products from over 50 brands like Pedigree, Royal Canin, Drools Dog Food, Petdig, Durapet, Jerhigh, Frontline, Karlie and DogTec. For logistics, the company has partnered with BlueDart, DelhiVery, RedSetGo, Speed Post and DTDC.
The company has already tied up with the online marketplace ShopClues.com and offers its products on ShopClues' pet section. It is also in early talks with SnapDeal.com for offering deals on dog products.
In 2011, the firm secured seed funding from Vikas Saxena (CEO of Nimbuzz), Vaibhav Gadodia (vice-president – tech at Nagarro) and telecom consultant Ritesh Chauhan. It also raised an undisclosed amount from Tanjai Ventures and Kibo Partners in September 2012.
Former Seedfund partner Anand Lunia started India Quotient, along with a group of entrepreneurs and investors including Kashyap Dalal of Inkfruit and Mohit Dubey, the founder of Carwale, among others. Lunia's investments in five companies (all done in his personal capacity) were transferred to the fund. These companies include IIMJobs, a job portal for business graduates; personalised gifting startup Engrave; shopping network RedQuanta, at-home beauty and personal care services firm Belita, and TheAppKiosk.
This is the second investment by India Quotient in 2013. Earlier this week, the fund, along with Mumbai-based angel investors, Nitin Agarwal and Siddharth Ladsariya, put in $500,000 in Mumbai-based Vellvette Lifestyle Pvt Ltd, which runs Vellvette, a subscription-based e-commerce platform for beauty products aimed at Indian women.
(Edited by Sanghamitra Mandal)
---