The State Bank of India (SBI), the largest public sector bank in the country, has quietly launched a horizontal e-commerce marketplace for its own debit card holders. The venture is powered by MartJack, an e-commerce solutions provider owned and operated by Hyderabad-based Reasoning Global eApplications Pvt Ltd (RGEAP), which is better known by its product MartJack, an enterprise ready e-commerce platform.
RGEAP has partnered with various standalone retailers in the country and has listed a large portfolio of products, including mobile phones, tablets, LED TVs, footwear, bags, healthcare devices, gaming and clothing.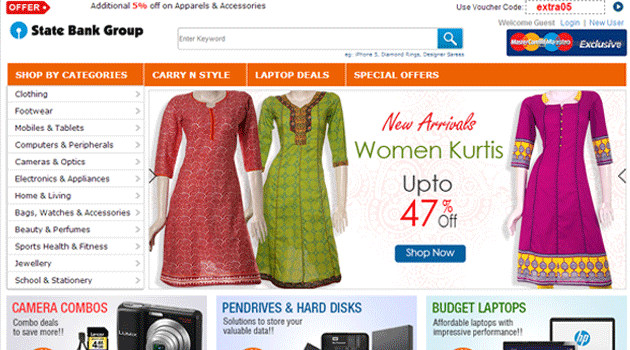 All orders will be delivered by the respective merchants, who will update the order and shipping status for each order to help customers track the status of their orders. Shipping costs, zone serviceability, mode of shipping and standard delivery time are applicable as listed by the merchant for each product separately. The management of the platform is with RGEAP.
SBI's role seems to be limited to channelling its huge customer base to buy through the platform. Interestingly, the bank is currently offering payments only through its debit cards and that too ones associated with MasterCard. Otherwise, SBI also has Visa debit cards. Moreover, the payment option does not include SBI credit cards. This means the bank is trying to push usage of its debit cards.
Currently, it offers additional 5 per cent discount on apparels and accessories. The property also offers special credits, based on one's purchase history and frequency. These credits are directly credited to the customer's account and can be used when he/she logs in during the order checkout. SBI claims that its partner merchants are shipping to over 3,000 locations across the country.
What's the point?
It is not the first time a leading bank in India has launched a marketplace. Private lender HDFC Bank is already running an online marketplace. Unlike SBI's property, HDFC Bank allows payments through both debit and credit cards. The private lender also pushes its other services and offers on other financial products through the site.
But given that SBI is by far the biggest bank in the country its reach is much more.
Moreover, it's not the first time an organisation connected to the government (SBI is public listed but majority owned by the government) is venturing into such a business. The government-run railway ticketing site IRCTC had previously partnered with Yebhi to launch an e-commerce property as an extension of its own site. This was essentially to capitalise on the huge eyeballs attracted by IRCTC site every day.
How significant such ventures can be for online retail transactions is something only time can tell. But it raises the question: Why should anyone login to this new site to buy a product? Marketplaces are a growing lot and SBI's property is just another site in the jungle. The additional discount is also commonplace with every second e-com site offering some discount round the year with debit or credit cards of one bank or the other. And we are not even talking about vouchers!
(Edited by Joby Puthuparampil Johnson)
---