The Indian Railway Catering and Tourism Corporation (IRCTC), a subsidiary of the Indian Railways that handles the catering, tourism and online ticketing operations, has launched a new service that will enable online booking of retiring rooms or dormitory beds at railway stations for travellers. Till now, one had to physically visit the railway station to check availability/book retiring rooms.
To begin with, the online booking facility is only available for railway stations in Mumbai, but going forward metropolitan cities and stations of tourist interest will be covered under the service. The booking can be done via both www.railtourismindia.com as well as www.irctc.co.in.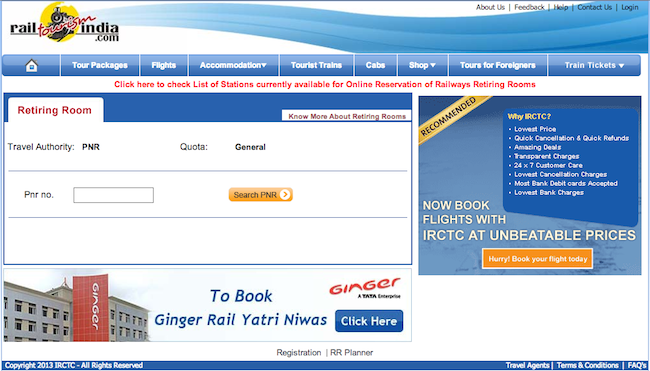 In addition, one does not need to register or login on the sites (mandatory while booking an e-ticket) to make use of the facility. However, the timings when online booking of retiring rooms are allowed is akin to that of e-ticket bookings, which means that you can book all through the day, except between 11:30 pm to 00:30 am.
Anyone with a confirmed or RAC ticket can make a booking and it can be done for all the passengers on the ticket. Booking for waitlist tickets is not allowed as of now. The booking can be done on both the originating and destination stations, and similar to the rules that apply to manual booking (done by physically visiting the railway station), a retiring room or dormitory bed can be booked for a minimum of 12 hours and a maximum of 48 hours.
To make a booking, travellers will need to click on the 'Hotels & Lounge' section on the IRCTC site, post that they will be redirected to Railtourismindia.com. Once there, you will find the option of booking retiring rooms under the 'accommodation' section. You will then need to enter your PNR number, and complete the booking. The stations in Mumbai where bookings are available as of now include Mumbai Central (BCT), Bandra Terminus (BDTS), Mumbai CST (CSTM), Kalyan Junction (KYN), and Lokmanyatilak (LTT).
IRCTC will apply a service charge of Rs 20 up to 24hrs for a retiring room and Rs 10 up to 24hrs for a dormitory bed. From 24hrs to 48hrs, a service charge of Rs 40 will be charged for a retiring room and Rs 20 for a dormitory bed. Note that if a room is being booked in single transaction for more than 24hrs periods in combination of slots (12X24, 24x12 and 24X24) then second slot assumes as extension of booking of first slot and 25 per cent extra tariff of the second slot is being charged (see table below).

Late last year, IRCTC had launched an eWallet for its site. As part of the scheme, users can deposit money in advance with IRCTC, which can then be used for making payments (along with other payment options available) on the site at the time of booking tickets. You can find all the information you will need to know about the eWallet here.
(Edited by Joby Puthuparampil Johnson)
---