Bringing a new form factor to the design of Vaio notebooks, Sony has launched a range of Vaio Flip laptop cum tablet hybrids in the Indian market. Christened Vaio Flip F15N17, F15N12, F14N16, and F13N1A, the new devices are available in 13-inch, 14-inch and 15-inch sizes. In terms of pricing, the cheapest one costs Rs 99,990 (not so cheap after all), while the costliest one is available for Rs 1,19,990 (see table below for exact pricing). The devices will be available for purchase starting 29th January 2014.
The new devices feature a 'hinge' that provides users with a variety of new ways to use their mobile PCs while still enjoying the full functionality of a traditional clamshell laptop. The Vaio Flip's line design makes it capable of flipping and converting between laptop, tablet and viewer modes by flipping the display over the hinge.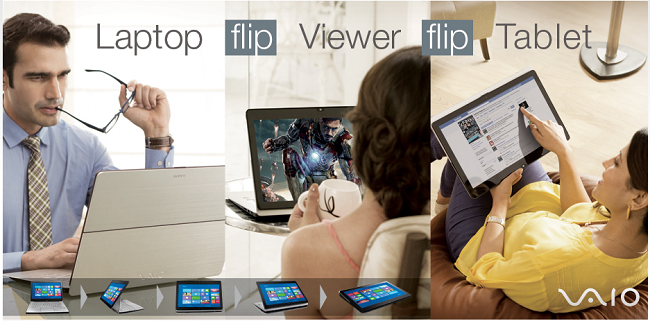 While the laptop mode comfortably accommodates productive work- the same way as conventional notebook PCs- in tablet mode, it is best utilised for touch, browsing the web, taking pictures, etc. Lastly, with the viewer mode, the display can be flipped over so that you can share the experience of watching a video or movie with another person or give instant presentations without connecting to a projector.
The devices chassis is constructed with casino online brushed aluminium hairline finish, and the touchscreen notebook comes with opti-contrast panel, large touch pad and bigger palm rest, as well as a backlit keyboard which allows users to work in low-light conditions. All the devices comes with full high definition (HD) displays and Sony"s super resolution technology- X-Reality for mobile, which analyses each image and reproduces lacking pixels to optimise quality for the sharpest videos.
For audio, Vaio Flip comes with Sony's sound technologies such as Clear Audio TM, xLoud, Clear phase, VPT, Voice Zoom and S-FORCE front surround 3D. The devices are powered by 4th Generation Intel Core i5 & i7 processors and come with SSD (F13N) and hybrid drive (F14N/F15N) for storage. In addition, Vaio Flip F15N is also powered by NVIDIA auto switchable graphics.
According to the company, Vaio Flip F13N"s battery lasts up to 7.5 hours, while F14N and F15N batteries last for 6 and 5 hours respectively. The 13 inch device also comes with an 8 megapixel rear camera that can also record videos. You can read about detailed specifications of each device here.
Additional features
Vaio Flip also has a dedicated USB port inside its charging adaptor for quick smartphone charging. This provides instant charging without blocking USB ports on the laptop. What this means is, with Vaio"s 'sleep and charge' technology, you can charge your smartphone even when your device is shutdown.

In addition, users will get 3 months of unlimited song downloads from Sony Music- "Jive" (has a collection of more than 1.5 million songs) directly on your Vaio Flip.
The device comes with one year accidental damage protection from Sony, and as an introductory offer, the company is also providing an additional 2 years of extended warranty for just Rs 999 (offer applicable from 15th Jan to 31st Mar 2014). In addition, the customers will also get a complementary Headphone MDR-XB910A worth Rs 12,990 with the Vaio Flip.
---