Star India gets licence for digital distribution of IPL 2014 from Times Internet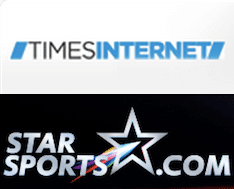 Star India, a fully owned subsidiary of 21st Century Fox, has scooped the licence for digital distribution rights for Indian Premier League (IPL) 2014 from Times Internet, the digital arm of the Times of India Group.
While the financial implication of the deal have not been disclosed, as part of it, Star India will offer streaming and video on demand (VOD) on Starsports.com, the Star Sports app, and on mobile operator services powered by Star Sports.
Times Internet will also distribute IPL streaming and VOD on its cricket destination on web and mobile, powered by a Starsports.com video player. Both companies will market the property jointly though Star India will be solely responsible for monetisation- including advertising sales.
Times Internet claims to be the largest Indian online media entity, with over 40 million monthly visitors across its digital destinations. Its portfolio includes news, lifestyle content, entertainment, ecommerce, mobile VAS, music & movie streaming, and local services. It had won the global media rights for IPL for four years starting 2011, for Rs 261.6 crore. This covered mobile, radio and internet rights, along with broadcast rights for certain territories for the short format cricket club tournament IPL.
Multi Screen Media Pvt Ltd (MSML), which owns the SET and MAX channels, has IPL broadcast rights in the Indian sub-continent till 2017.
"We have been offering our users IPL for three years, and it continues to be a major driver in consumption and brand, recognised as one of the largest online video events worldwide with rapid growth. Our partnership with Star will enable an even larger reach for the property across digital devices," said Satyan Gajwani, CEO of Times Internet.
Prior to the new partnership with Star India, Times Internet had a tie-up with Google to broadcast 74 live matches of the fourth season of Indian Premier League on YouTube.com. A YouTube channel Youtube.com/Indiatimes had been created for the same, which was streaming the matches but with a delay of 5 minutes. This was a non-exclusive partnership between the two companies for a period of two years.
Launched in June 2013, Starsports.com offers a video timeline that allows the viewer to keep track of live sports as well as catch up on old games. The company has also built a technology infrastructure that enables high definition (HD) quality streaming across multiple devices. According to the company, Starsports.com is India's first multi-sports digital service with availability across the web and mobile, and it covers sports including major cricket tournaments, BPL, La Liga and Serie A (in football), F1, hockey and tennis.
At a time when more and more fans are following sports across multiple screens, our aim is to deliver an experience for them that is even better than what is on television. We want to make IPL the world's largest sporting event on a digital platform this year," said Sanjay Gupta, COO, Star India.
Star India broadcasts more than 40 channels in 7 languages, and claims to be reaching more than 600 million viewers every week across India and 100 other countries. The network's channel portfolio includes Star Gold, Channel [V], Star World, Star Movies, Star Utsav, Life OK, Movies OK and Star Plus. The company also has a presence in regional broadcasting through a bouquet of affiliate channels which includes Star Jalsha, Jalsha Movies, Star Pravah, Asianet, Asianet Plus, Suvarna, Suvarna Plus and Vijay.
Comment(s)