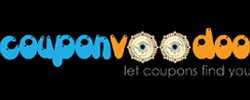 Gurgaon-based Couponvoodoo.com wants to solve the problem searching for coupons and manually applying them to the cart by becoming the Google of coupon search in the country. With the portal, consumers can simply post the URL of the product from their favourite e-commerce website and Couponvoodoo will automatically check if any discount coupons are available for the product.
In addition, the portal also provides users with catalogues of popular e-com websites (at the brand and category level) for products for which coupons are currently available. The list contains the net price of the product after applying the available coupon, so that users don't need to do the same manually. The startup was launched last month by IIT Delhi alumni Ashish Gupta and Lavesh Bhandari. "The coupon finding process is reasonably complex and the challenge of where to buy is not addressed. By bringing coupon information down to product level, we wanted to change the entire workflow," said Gupta.
Started with a capital expenditure of Rs 20 lakh (spent on setting up the technological platform), the company had raised Rs 22 Lakh from serial entrepreneurs Gaurav Bhatnagar, Ankush Nijhawan and Manish Dhingra in 2013. According to the company, it has already crossed 275 transactions influencing a business of Rs 6 lakh across seven e-tailers like Myntra, Jabong, Flipkart, Snapdeal, Shopclues, Indiatimes Shopping and Firstcry. As of now, the company earns a commission of 8-15 per cent on each sale.
"To further expand the brand, we are making inroads through search engine optimisation (SEO). In addition, since we have the ability to list products net of coupon prices, consumers will see prices on our site that they will not see anywhere else. This should power our social media strategy and also help brand recall," added Gupta.
Speaking about the larger plan of the company, Bhandari said, "One of our key focus areas going forward is to influence offline shoppers to move online by accessing our data. To do this, we are currently conceptualising a mobile app that would enable one to check for online prices of the product. For instance, a buyer at Reebok showroom would be able to quickly search for the selected product and see the price online net of coupons. If the consumer is saving a significant amount, it is very likely that he/she will place the order online."
While the company is presently focusing on the Indian market, it also wants to capture a share of the $4 billion US online shopping market. For the same, it will work on adding keyword search with barcode and image mapping.
---