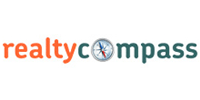 Chennai-based Blitzkrieg Technology Pvt Ltd, the company that owns and operates property search engine cum marketplace RealtyCompass.com, was born out of the frustration of not being able find a home in spite of the presence of multiple portals which, according to the founders Nimesh Bhandari and Sankara Srinivasan, had insufficient and inaccurate information.
As part of the pilot, the duo conducted a research on the requirements of the customers of Casa Grande, a Chennai-based developer. "The research concluded with the analysis that customers needed verified and exhaustive information, but with less clutter (no pop ups and banners)," said Bhandari.
Filling this gap was a huge opportunity, since the total marketing spent by builders and property consultants stands at $1 billion, according to Bhandari. "Builders are one of the largest spenders on print and OOH medium. Nearly two million people search for homes on a yearly basis and about half a million new homes are sold every year. We are trying to make the best use of social media for acquiring customers, and recently did a campaign where we asked consumers to share their anger against builders who have not kept their promises," he added.
What's different?
The company is betting on capturing critical data like projects completed by builder, sample flat, current project status, location advantages, available units, bank approvals, etc., in order to enable direct contact of the home buyer to the builder without any intermediaries like brokers. It also influences choice with tools like compare projects, expert chat and call, social forum, home buying calculator and analytics.
Users can sort/view projects based on several criteria like location, configuration, area (in square feet), date of possession and price in a pie chart. Hence, a price sensitive user can refine projects in Bangalore by price and then based on the localities that have more options (and are not very far from his office), he/she might decide to check out projects in that locality.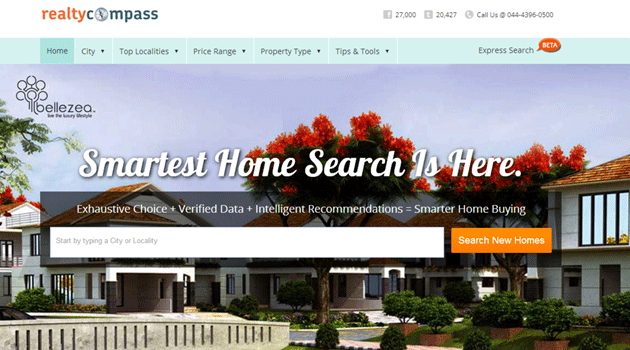 The portal claims to offer exact information of the amount of inventory in projects and also enables calculation of its correct value. "The listings are transparent and unbiased as the entire hidden inventory (projects which have few units to sell) is entered. There is also a home value calculator which simplifies the otherwise complicated computations with a few inputs. It calculates and gives results of the value of the home you can afford, based on your salary and down payment capacity, automatic calculation of loan potential and EMI, projecting rental saving or rental income over a period of 20 years, income tax benefits of buying a house from payment of interest, payment of principal and being a new home buyer and the net worth of home in present terms based on moderate appreciation on home value; and return on investment (ROI) on money invested as well as the benefits arising out of it," said Bhandari.
Revenue model
RealtyCompass provides leads to builders and charges them on a 'pay-per-performance' model. The company also helps them in branding, which basically means paid ads as well as marketing on the site. "We generate revenue by providing lead generation and brand visibility for builders. We charge Rs 550 per lead generation and the marketing and brand visibility charges vary between Rs 50,000 and Rs 3 lakh per three months. The marketing solution segment could include making a Facebook or Pinterest page to becoming among the top three trending projects. The builder could also consider buying the home page of any city," said Bhandari.
According to him, the company is doing a run rate of Rs 7 lakh per month and its revenues are growing at a healthy pace of 50 per cent month on month. Currently, the portal has signed up with 250 builders listing 1,200 projects from four cities that include Chennai, Bangalore, Hyderabad and Coimbatore. It claims to get 1.5 lakh visitors on the site and 4,500 enquiry calls on a monthly basis.
Headquartered in Bangalore, the company also has an office in Chennai. In all, there are 30 employees across three locations (there are a few data collection executives in Hyderabad as well).
Funding and what's next?
The company had received seed funding worth Rs 2.5 crore a year ago from Propel Holdings LLP. The funds were largely invested in data gathering and product development. This year, the company plans to launch its mobile application to enable users to get actual results when they type their requirements like '2BKH in MG Road, Bangalore' with native language search capability. It is also planning to expand to cities like Ahmedabad, Mumbai and Pune.
RealtyCompass.com is competing with the likes of Magicbricks.com, 99Acres.com, Indiaproperty.com and Housing.com. Recently, Housing.com had also launched a new projects platform and has superimposed 3D images of the new projects on a map to provide users with an aerial view of the project site. The in-house team of the company has developed detailed floor plans of the site to tell the users what exactly lies inside the house. The portal also features project reviews from experts in the real estate industry to make sure users are empowered with facts about the site.
(Edited by Joby Puthuparampil Johnson)
---