Sequoia Capital-backed Citrus Pay launches 'Death of Chutta' app for P2P money exchange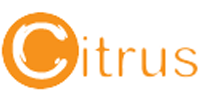 Sequoia Capital-backed Citrus Pay, which offers an online checkout and payment solution, has launched an android and web application to address the problem of small denominations of cash and loose change. With this app- called Death of Chutta, users can load any amount of their choice (between Rs 1 and Rs 10,000) via internet banking, credit card, debit card, post which the app will enable them to transfer the money to friends, colleagues and family members within a few seconds.
Users can also return borrowed money to friends, pay shared bills, ask for refund of money lent to friends, or request friends to lend them money. The money transfer can be made to any specified bank account at anytime, and the app also allows users to view all their past transactions in order to keep a track of their spending patterns. According to the company, once the money is loaded in the app, it takes only a few seconds and a single password to make a financial transaction between two individuals anywhere in India, even if the recipient is not a Citrus account holder.
Why 'Death of Chutta'?
"The need of the hour is to transform the way we make and receive payments. Mobile or e-payments are the future with the growing mobility of Indian populace. Now, college students, family members and colleagues can all replace the need for cash and the headache of dealing with change. They can split bills for lunches, canteens, outings and much more in a couple of seconds flat," said Satyen Kothari, chairman and co-founder, Citrus Payment Solutions.
"You may not be able to use pre-2005 notes, including Rs 500 and Rs 1,000 from March 30, 2014. Also, fake, obsolete and damaged notes can never again bring a wrinkle to your forehead with the use of our new application. The application ensures that you never discredit your credits and debts. We wanted to address the pain of physically carrying all those notes and coins. And no more 'Chutta nahi hai' excuse to not give or take money," added Jitendra Gupta, co-founder and CEO, Citrus Payment Solutions.
The rationale behind launching the portal is to also tap into the consumers who actually knock physical windows to buy tickets or any item. "If a consumer goes to a PVR window to buy tickets, he/she could make transactions with the help of the 'Death of Chutta' app. We looked at all the segments of making payments and we realised that this particular one remains untapped," said Kothari.
While the company is yet to figure out a monetisation strategy for the app, the platform itself is a step towards its aim of making a mark in any kind of exchange of money.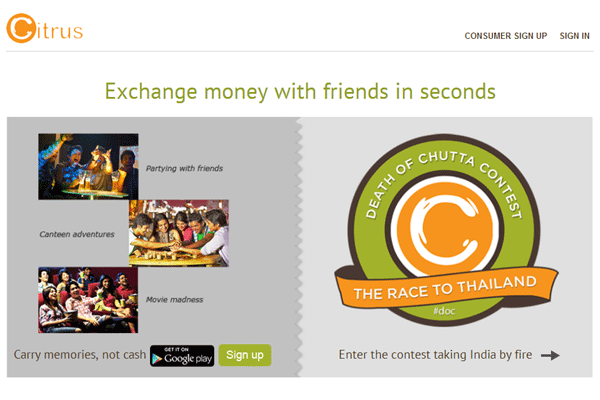 Founded in 2011 by Kothari and Gupta, the company raised an undisclosed amount in a Series B round of funding from econtext Asia, Beenos Asia and Sequoia Capital in December 2013. Sequoia had earlier invested $2 million in the company's Series A round in March last year. According to the company, it is currently catering to 1,200 merchants, including biggies like Airtel, Indigo, Reliance, Fun Cinemas, Delhi Metro and PVR. It further claims to be processing more than 2.5 million transactions per day month and earns revenues by charging 0.75-2.5 per cent of the transaction value from the merchants.
Earlier, Zaakpay, a Delhi-based payment solution provider was planning to launch Bankpay, a solution which would help manage users' online and offline payments, but shunned the plans as it was not able to get a nod from the regulatory authorities. However, Zaakpay has also incorporated Mpay with two payment solutions for the mobile medium. The first is a mobile web payment solution which can work on all popular mobile browsers, while the second one is an In-App payment solution.
(Edited by Joby Puthuparampil Johnson)
Comment(s)