MirchiMart's co-founder shifts focus, sets up Paxcom to enable merchants to sell on multiple e-com portals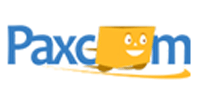 When beating bigwigs of Indian e-commerce like Flipkart, eBay and Snapdeal turned out to be a much difficult task than he had earlier imagined, Punit Sindhwani, co-founder of e-commerce site Mirchimart.com shifted his focus on solving pain points for merchants who sell through multiple marketplaces, giving birth to Paxcom.
Part of Paxcel Technologies, a Haryana-based software development firm also founded by Sindhwani, Paxcom is a 'business manager' for merchants to fulfil orders from multiple channels from one platform, making it easy to procure products from vendors with supplier ratings and history, as well as keeping track of inventory level. The built-in intelligence system uses data collected over different operations within the product and utilises it for giving suggestions on price and quantity on different channels, best procurement from suppliers and efficient fulfilment for higher ratings.
"We have been running our own e-commerce portal (MirchiMart) for the last two years and have also been selling on marketplaces like Amazon and Flipkart. We saw first-hand challenges in running an online portal and selling on marketplaces, which allowed us to develop the product using real-world use-case scenarios. With the genesis that technology is capable of offering a solution for every problem, we started developing a comprehensive product that would automate the entire process," said Sindhwani.
What's it about?
While his initial plan was to help retailers create an e-store, he later realised that there are established players like BigCommerce, Shopify, Zepo, among others, to cater to this need. Over time, he also learnt that there are more people selling on marketplaces than those who want to create their own store and no comprehensive player was easing the management selling through multiple portals.
"With Paxcom, the aim was to make it easy and efficient for retailers to sell online. And with increasing number of marketplaces, we saw an opportunity in easing the process of selling on multiple channels," he said. The company has already spent Rs 1.25 crore in building the platform.
According to Sindhwani, the main challenge in developing the portal is that most portals don't have a mature platform with APIs. "For instance, Flipkart and Snapdeal's integration is not as seamless as that of Amazon because there are no APIs. In terms of features, the portal is ready for Amazon and Flipkart and next in line are Snapdeal and eBay, with Tradus and Shopclues to follow," he said.
To start with, the company is targeting the merchants that are selling on Indian marketplaces like Flipkart, Amazon, Snapdeal, eBay, etc. and will later go on to target merchants selling on small and medium size e-tailers who want a combination of their own online store as well as marketplace selling (similar to MirchiMart).
"While presently there is an option to allow users to set up their own store through Paxcom, it cannot be done automatically and is customised at our end," mentioned Sindhwani, adding that it will incorporate this feature going forward to make it a one-stop shop for merchants who want to sell on their own portal and other marketplaces.
Revenue generation & plans for 2014
To generate revenues, the company is planning multiple models. "First is software as a service (SaaS) fee ranging between Rs 500 and 3,000 per month. Second is pay-per-transaction-based model where we will provide additional services like a team to manage listing and customer support to help them master online sales. Third is custom enterprise software development for big e-commerce players," said Sindhwani.
In 2014, the focus is on getting at least 1,000 merchants, getting a lot of data, and then using Big Data analytics to get best of the dynamic market place. "This will enable all merchants to adapt to industry changes quickly and to make best investment decisions in terms of inventory, operations, user experience, logistics, customer policies, etc. The portal will cover all major marketplaces and Indian merchants selling online," he said.
It will also include point of sale (POS) terminal integration to add sales from retail outlets as well. A 10-member team as of now, the company plans to double the team size majorly for development and account handling.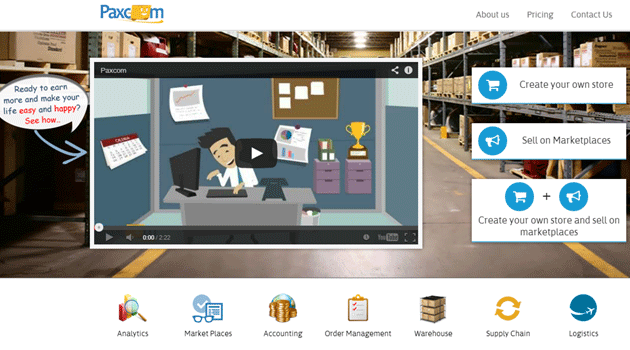 Fundraising & competition
According to Sindhwani, the company is in talks to receive funding of about $0.5 to $1 million. In terms of competition, Paxcom will compete with players like Brightpearl, Unicommerce, Kartrocket, Lettuce and Orderhive. Unicommerce provides a SaaS-based order, inventory management and fulfilment platform for online retail and ecommerce firms and its clientele includes Snapdeal, Jabong, Lazada, Urban Ladder and Blue Stone, as well as a few international clients such as Daraz.pk and Myessentials.ca. The firm claims to be processing more than a million products every month and it recently released a new offering targeting merchants selling on multiple marketplaces and e-commerce platforms.
"Apart from order management, warehouse or supply chain management, our competitive advantage lies in marketplace integration, built-in accounting system, analytics and intelligence, including spend analytics and automatic pricing rules," concluded Sindhwani.
(Edited by Joby Puthuparampil Johnson)
Comment(s)