SBI launches payments aggregator SBIePay to enable electronic transactions in India

State Bank of India or SBI, the largest bank in the country has launched SBIePay, a payment aggregator service to facilitate electronic (e-commerce / m-commerce) transactions between merchants, customers and various financial institutions in the country. As part of the new service, SBI will provide electronic connectivity with various banks and financial institutions on the one hand and merchants on the other.
The company has also partnered a number of banks for the service that include State Bank of Bikaner & Jaipur (SBBJ), State Bank of Hyderabad (SBH), State Bank of Mysore (SBM), State Bank of Patiala (SBP), State Bank of Travancore (SBT), United Bank of India, and ING Vysya Bank. However, details on how much will the company charge for the service is not available as of now.
What's on offer?
According to the company, SBIePay provides complete, simple and secure online 'payment gateway' services, with a real-time credit card, debit card, net banking and mobile payment transaction validation process- enabling e-commerce websites to sell products & services online, and accept payments in real-time.
Every merchant upon registration will receive a merchant identification (MID), admin user access to merchant account and its password. They (merchants) can add / modify / delete bank accounts- with minimum one active account- and can also add various channels to allow their customers to transact, including Kiosk, ATM, IVR, e-commerce, mobile, Aadhar, POS, among others.
For settlements, SBIePay will follow a max T + 2 days settlement cycle wherein funds would be transferred within two working days of capture of transaction.
SBIePay also provides a personalised 'Merchant Web Panel' to merchants who have successfully signed-up with the service. Merchants can also view and download all transaction records and bank details in their accounts. Detailed MIS reports can be downloaded from the admin panel, to help clients to manage their orders and transactions. Some of these include reports on successful payments, failed payments, payments in clearing, payment sighted, settled transactions, and payout transactions, etc.
Other players in the payments space
Last month, Gurgaon-based PayU India Internet Pvt Ltd that offers an online payment solution PayUMoney (earlier PayUPaisa) launched a wallet service for online shoppers in India. Called 'PayUMoney wallet', the e-wallet will enable consumers to pay through normal payment methods like credit card, debit card or net banking and get rewarded on every transaction.
Prior to that, Mumbai-based Avenues India Pvt Ltd, which runs a payment gateway called CCAvenue, added support for multiple currencies. The payment gateway can now accept and process payments in 27 currencies. The company has also bundled new features like smart dynamic routing—for better success rate; iFrame integration—for a seamless shopping experience; retry—for completing failed transactions; and one-click checkout—for quick checkout process.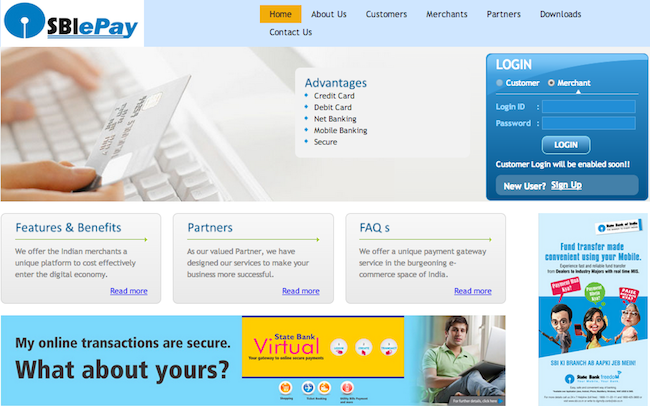 Early this year, e-commerce major Snapdeal.com had come out with its own payment gateway called Klickpay. The payment gateway is currently live only on Snapdeal.com, but will soon be introduced for third party developers as well.
Flipkart.com, which had launched its own payment gateway service PayZippy for merchants in July 2013 under a separate firm Flipkart Payment Gateway Services (FPGS) Pvt Ltd, extended the service to end users. The B2C version of PayZippy allows customers to store their card details and make payments on partner merchant sites. It has also tied up with merchants to give offers like cash backs, discounts on transactions, and gift vouchers to initial customers of the service.
Comment(s)