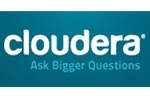 California-based Cloudera Inc., a provider of enterprise data management solutions powered by open-source software Apache Hadoop, has closed a $160 million funding round led by US-based investment firm T Rowe Price, with participation from a private investment firm of Michael S Dell and his family, an affiliate of MSD Capital, and Google Ventures. The capital will be used to drive innovation and enterprise adoption of the Apache Hadoop software, support the firm's geographic expansion into Europe and Asia, and expand its services and support capabilities.
With this round, the total amount raised by Cloudera to date stands at $300 million.
"When Cloudera emerged from stealth mode in 2009, the vision was to bring Hadoop to the enterprise," said Tom Reilly, CEO at Cloudera. "At that time, the idea of Big Data was on the cusp of adoption. Five years later, we are now one of the leaders in enterprises data management. The market demand for these technologies is fierce as companies realise the competitive advantage and strategic value of their data."
An enterprise data management company, Cloudera offers enterprises a single place to store, process and analyse all their data. It offers an enterprise data hub that includes software for business critical data challenges such as storage, access, management, analysis, security and search. The firm claims it has trained over 20,000 individuals worldwide.
"We see broad demand from enterprises, which want a flexible approach to handling large amounts of data, and we expect this market to continue to grow rapidly," said Google Ventures' general partner Karim Faris. "Cloudera is dramatically lowering the cost of reliable storage for the enterprise and is enabling the analysis and mining of large data sets in a way that wasn't possible before," Faris said.
(Edited by Joby Puthuparampil Johnson)
---