LensKart sells 1,000 spectacles a day compared with 20 a day two years ago: Peyush Bansal of Valyoo Technologies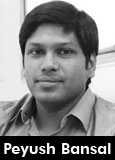 Valyoo Technologies has built a string of vertical e-commerce portals focusing on particular product lines. Currently, the company is focusing on LensKart and may look at selling its portals which e-tail bags, watches and jewellery. The firm has raised around $14 million in funding from IDG Ventures and Ronnie Screwvala-led Unilazer Ventures. In a chat with Techcircle.in, founder Peyush Bansal talks about his initial days, the company's strategy and more. Here are the edited excerpts.
Can you take us through your early days as an entrepreneur?
I wanted to do something on the internet. Our first venture (Searchmycampus), which was centred on college students, wasn't purely about e-commerce. It was mainly about connecting college students to someone who can provide services to them which is similar to classifieds. We wanted to make a buyer and a seller meet. The only thing we were not doing was making a transaction on the internet.
Why did you shut down Searchmycampus?
We earned revenues through advertisement on the website. We also built websites for colleges and hostel providers. But the model that primarily worked was selling leads to educational institutes and PGs.
We shut Searchmycampus.com in 2010 as we did not have time and energy to look for someone to sell it off. Also, we had already progressed to LensKart.com with the help of some funding and this left us with huge targets. We did not want to get into worrying about selling it (Searchmycampus). Keeping it live would mean that we would not have been able to attend to customers.
How did LensKart, JewelsKart, BagsKart and WatchKart happen?
Classifieds as a model was not making money and was not scalable. We wanted to do something that would scale up fast. That is when we shifted gears and got into e-commerce. We wanted to offer something unique like we did in Searchmycampus.com. That's how we came up with the idea of LensKart. Eventually we wanted to offer more related services to customers and we set up BagsKart, Watchkart and JewelsKart.
How does the supply chain of these portals work?
We follow an inventory based model. We have teams that are working with vendors and a majority of the business is private labelled. We have teams that select goods, design, stock them, put them on the portal and pass them to the customers at the best value.
Why did you opt for an inventory model for the portals?
All our portals are inventory led which is a differentiating factor as it may not be really good to buy from marketplaces (where third-party vendors sell to consumers through the platform) as the portal doesn't know the quality of the product shipped by the seller, and is therefore a risky place. Nobody in the marketplace is choosy about the product quality.
We don't have a 'drop-ship' model. Every shipment goes from our own warehouse; it will not go unless it passes our standards. We take responsibility, offer warranty and take products back. The consumer will eventually see that and the growth will happen organically.
How many products were you selling two years ago? How many are you selling now?
In LensKart, about two years ago we used to sell around 20 spectacles a day and now we are selling 1,000 spectacles a day. WatchKart was processing 10 watches about two years ago and it has now scaled up to 300 watches. JewelsKart and BagsKart were started about a year ago and we are doing 60 and 200 orders per day, respectively.
You clocked revenues of Rs 32 crore in the year ended March 31, 2013 against around Rs 8 crore in the previous year. However, losses rose almost six times during the period. How can you sustain if you are losing 60-65 per cent on whatever you are selling?
It has a lot to do with payroll and marketing costs that we are incurring to scale up the brand. But if you look at some other companies, it is far lesser given the brand that we built. It's a part of the plan and something that we had expected. We will break even in the coming year.
What proportion of sales does come from mobile and private labels?
Around 10 per cent of the sales comes from mobile and we are launching an app this month which will give the same experience as the web application. About 80 per cent of GMV is through private labels.
What proportion of sales does come from LensKart in value and volume compared with other portals?
You start out with many things and then focus on the most scalable area. We have other 'karts' that are doing good business but they are not as differentiating as LensKart. In other categories there is a lot of competition; there are price wars too. A lot of the price war will settle in sometime and that would be the right time to grow those businesses. For now, it is the right time to take LensKart to the next level and it is important that we focus our energy on something which can be very big. Currently, about 50 per cent of the business comes from LensKart.
What are the new features that you have added to LensKart?
We have been improving our 'virtual try-on' where people can try frames online. We are doing a lot of stuff on mobile which will be released soon. People can order only the lenses—if they have a specs, LensKart picks it up, fits lenses and returns it to the customer. They can also book an appointment for an eye check-up. In addition, we send someone to the customer's home to carry out the eye check-up. Besides, we have launched a 'doctor locator' feature. We are scaling up our home eye check-up service which is running in seven cities. We were attending people in a week's time and now we hope to do that within 24 hours.
We have launched another service where you can order five frames which are sent through courier. The user can try them and place an order.
What is the future of JewelsKart, WatchKart and BagsKart?
We may consider selling JewelsKart, WatchKart and BagsKart about a year from now. They are doing well in terms of earnings. But some other e-commerce companies are offering heavy discounts and hence are taking away some share that we would have earned. It is not a quality, customer satisfaction and delivery game; it is a price game. You are selling the product for a price which is much lesser than that you bought it.
What prompted you to float offline stores? What is the contribution of offline stores to GMV?
It is a franchise model-optometrists are signing up, opening stores and becoming partners with LensKart. We have 20 offline stores. Most of these are in tier II cities.
We want to look at all the reasons why a consumer will not buy from LensKart. One of the reasons is that they want to get their eyes checked. Our offline franchise stores help people get their eyes checked. We are mainly expanding these stores to tier II and III cities where there are not good eye check-up facilities as well as a good range (of specs) for customers to choose from. Basically, a user walks into a franchise store, gets his eyes checked, browses through our range and places an order on the internet.
About 10 per cent of GMV comes through offline stores.
You raised money in two rounds from IDG and Unilazer. How have you spent the funds?
Majority of the funding has gone in building processes and technology to be able to deliver multiple orders to different cities across the country and setting up a team which would select products, display them on the portal and provide customer service. Now that the basics are in place, the focus is on marketing to build a brand and promote it to reach a wider audience. We intend to do a TV campaign soon.
When are you planning to raise the next round? Are you already in talks? If yes, would you be looking at existing investors or others too?
We will reach profitability by the end of this year and then look at raising capital as we will have a better valuation. It is too early to say if we will raise funds from existing investors. Right now the focus is on profitability and growth. As of now, we do not need funds.
Would it be fair to foresee an endgame where you may look to sell LensKart to a horizontal e-tailer after building a strong franchise? Are you already in talks?
Not at all. Our plan is to put specs on everyone's face in India. Anyone who needs a vision correction or doesn't need any should buy specs from LensKart. There should be no reason why he/she should go anywhere else.
(Edited by Joby Puthuparampil Johnson)
Comment(s)