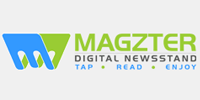 Chennai and US-based Magzter Inc, which owns and operates the digital magazines store Magzter, plans to launch an ad-based revenue model. The company, with a catalogue of 3,500 magazines currently banks on a subscription-based model, is aiming to earn majority of its revenue in the next two years from advertisements, which will be placed within its mobile app.
"We plan to set up an ad engine which will deliver advertisements to magazines hosted on the application. We want to become a reading destination like what YouTube is for videos and Google is for search," Magzter's CEO Girish Ramdas told The Economic Times.
Magzter had raised funding from a wholly owned subsidiary of Singapore Press Holdings Ltd (SPH) and Kalaari Capital.
Readwhere.com, another e-reading platform for over 2,000 publications including magazines, newspapers as well as comics, is already following multiple revenue models. It earns commission of around 10 per cent of transaction for every subscription for paid content on its platform and runs ads on free content. The company claims that it earns about 80 per cent of revenues through advertisement.
Lately, Readwhere.com added a prepaid digital wallet that allows users to earn credits which get redeemed as the user reads the magazine. In short, it is a pay-as-you-read model that allows users to pay for only those sections and articles that they read.
---