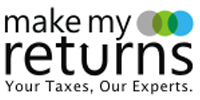 Mumbai-based JRC technologies Pvt Ltd, the company behind the income tax e-filing platform MakeMyReturns.com, is looking to raise £200,000 (over $300,000) via London-based crowdfunding platform CrowdBnk, founded by Indian-origin entrepreneur Ayan Mitra. The company plans to use the capital to create operational capability, add new features, launch mobile apps and also for marketing initiatives, MakeMyReturns' co-founder Vikram Ramchand told Techcircle.in.
In 2012, MakeMyReturns had raised $200,000 in seed funding from a London-based high net-worth individual (HNI) in return for a 20 per cent stake.
Founded by Vikram Ramchand, Aashish Ramchand and Varun Advani, MakeMyReturns is a platform for users to make their tax filing process easier through one-on-one interactions with experts, mainly Chartered Accountants (CAs). The firm claims to have signed up 40,000 customers and eight CAs to date. While it charges Rs 149 for self e-filing, the cost of taking assistance from an expert is Rs 249. The firm also claims that 80 per cent of its users sign up for expert service.
MakeMyReturns now plans to launch a premium feature, whereby each user will be assigned with a CA for the full financial year to assist him/her in filing IT returns.
"In the long term, we want to automate our platform to the extent that a person would need only his/her PAN (Permanent Account Number) to use the system which will automatically pull up all the data required for filing the returns," added Ramchand.
The firm mainly competes with Taxspanner.com, Cleartax.in and Taxsmile.com.
According to Ramchand, of the total seven crore tax filers in India, about 82 lakh e-filed their returns in 2013, and the number of e-filers is growing at a rate of 30 per cent year-on-year.
(Edited by Joby Puthuparampil Johnson)
---