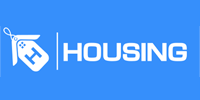 Real estate portal Housing.com (earlier Housing.co.in) has added a new feature that provides a real-time visual representation of the demand and supply interactions in the property market. Designed by the company's Data Science Lab (DSL), the tool is map-based with graphic illustrations, and provides users access to demand supply data to optimise resources in light of acute space crunch and lack of monetary assets in the property market.
Localities that show a dearth in demand are highlighted in varying shades of blue, while those in need of supply are denoted in yellow and red. Ideal localities with a balanced market have been displayed in green.
"The tool aims to empower the common man by providing them access to data on a public forum to better understand demand supply gap in their cities and real estate indicators impacting them. If there is high demand for a particular configuration, for example, furnished 2 BHK in Bandra, our team works to increase inventories in that locality. On the other hand if supply exceeds demand in an area, the team drives demand into micro markets using BTL activities," Abhimanyu Dhamija, co-founder, Housing.com said.
The tool is available in all 11 cities that the company currently operates in that includes Mumbai, Delhi, Gurgaon, Hyderabad, Pune, Bengaluru, Noida, Ghaziabad, Faridabad, Chennai and Kolkata. The DSL team comprises of a team of data scientists who study demand and supply of the property markets of different cities, to create algorithms and simple graphic representation for the same.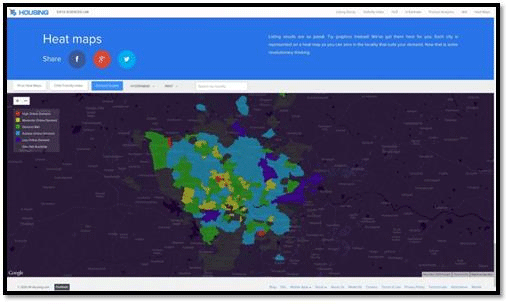 Apart from the 'Real-Time Demand-Supply Monitoring Tool' the site also offers tools such as 'Housing New Projects' which showcases custom made 3D models of buildings for better viewing experience as well as incorporates aerial views of project sites.
Last October, Housing had introduced an 'agents map' feature on its website to help property seekers figure out who their nearest agent is, before renting or buying a property. According to the firm, agent maps will help people find the agent best suited to their requirements and nearest to their favourite areas. It also offers a 'price heat map' to enable users to check prices of localities across a city on a map.
Housing was set up in 2012 by a group from IIT Bombay. The startup enables real estate brokers to upload unlimited listings on the site while users can search properties for free. The venture is owned and operated by Mumbai-based Locon Solutions Pvt Ltd and currently has 30 IIT graduates on board. The startup had raised $2.5 million in pre-Series A funding from Nexus Venture Partners in June last year. Prior to that, it also attracted two rounds of angel funding. In March 2013, the company raised angel funding from former Network18 CEO Haresh Chawla, immediately after securing an undisclosed sum from a group of angel investors, led by Zishaan Hayath, co-founder of the phone commerce company Chaupaati Bazaar (acquired by Future Group).
Last September, the startup bought the Housing.com domain name as well as a national number 03-333-333-333, for $1 million. The purchase was done as a first step for the company's international expansion. Earlier, the company had appointed Richa Bansal, co-founder and managing director of online jewellery and fashion accessories retailer 21Diamonds.in, as its chief business officer.
---