Google acquires drone maker Titan Aerospace for spreading wireless internet access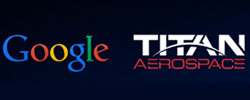 Google Inc has acquired solar-powered drone maker Titan Aerospace as the tech giant ramps up plans to deliver wireless internet access to remote parts of the world. As part of the deal, the 20-member team at the company will join Google and would operate from New Mexico office.
Titan Aerospace is a startup manufacturer of solar-powered Unmanned Aerial Vehicles (UAV). The company operates a research and development facility located in Moriarty, New Mexico, where it is working with the FAA to obtain airspace for flight testing within the National Airspace System. It builds atmospheric satellites which could help bring internet access to millions of people, and help solve other problems, including disaster relief and environmental damage like deforestation.
"It's still early days for the technology we're developing, and there are a lot of ways that we think we could help people, whether it's providing internet connections in remote areas or helping monitor environmental damage like oil spills and deforestation. We are very excited to learn from our new colleagues as we continue our research, testing and design work," Titan Aerospace announced.
The acquisition is a part of Google's efforts to deliver internet access to remote regions of the world which in-turn boosts usage of its services. Last year Google launched a small network of balloons designed to deliver internet access over the Southern Hemisphere, dubbed as Project Loon.
Comment(s)