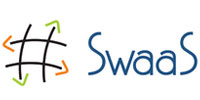 Fulcrum-backed Swaas, a sales force automation solution provider for the pharma industry, is eyeing overseas expansion through strategic partners in Greece, Spain and other parts of Europe and New Jersey in the US. It is already present in a few markets in South Asia besides Southeast Asia.
The company is already in advanced talks to enter into a strategic alliance with a Greek firm which has a presence in Italy, France and Germany, to provide IT related services to pharma companies, a top executive of the company told Techcircle.in.
Anand Natraj, founder of Swaas said, the company is also looking for a strategic partner in the US which is a much bigger market compared with India. The Indian market for Swaas' product is estimated to have a market size of Rs 220 crore.
"While India has a ratio of about 1.4 doctors per 1,000 people, the US has four doctors for the same number of people," explained Natraj.
Swaas has developed web and tablet apps which deliver analytics on the field operations (of medical representatives often referred to as reps) by hash tagging concepts with algorithms. It claims to be the only company in the world to have a CRM and CLM (close loop marketing) solution integrated in the same box, which helps pharma companies to make their sales & marketing network more effective.
Reps don't need to carry a physical brochure; it's all in their tab. The built in intelligence stores rep's working information, besides intelligence to understand the doctor's preferences and show relevant drugs/medicines to them based on his/her past behaviour in prescribing medicines.
It controls information about the daily activities of the field force, MIS at the click of a button, control on monthly expenses, correlation between sales activity and results, business critical information on key prescribers, competition and complete territory information with data history.
The web version of the product is called HiDoctor while the tablet version is named WideAngle. The price of HiDoctor is Rs 150 per rep per month and WideAngel is Rs 550 per rep per month.
Launched in 2009 by Anand Natraj, an IIM-Calcutta alumnus, the firm claims its portal is used by 30,000 medical reps from more than 50 large and small pharma business houses in India, Sri Lanka and Philippines.
According to the founder, its clients have seen an increase of 15 per cent in their sales after adopting its technology. It claims of having ended last year (FY14) with revenues of Rs 3.5 crore.
The company has a team of six sales employees besides CTO, CFO, COO and a customer relationship manager.
"We want to increase our user base to one lakh reps in the next two years," said Natraj.
Swaas had raised a seed round of Rs 4.5 crore from Fulcrum India Ventures for a 50 per cent stake.
(Edited by Joby Puthuparampil Johnson)
---