Startup accelerator Tandem partners with Kae Capital to help mobile-focused entrepreneurs build cross-border teams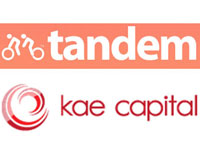 Silicon Valley-based mobile startup accelerator Tandem Capital is partnering with India-focused early stage technology investment firm Kae Capital to help entrepreneurs build cross-border teams by connecting with international product teams and provide capital to accelerate growth, a top executive of Tandem told Techcircle.in.
"Today, very strong product teams (of startups) exist in India. By partnering with Kae Capital, we will be able to work with the best of these, and help them leverage talent and ideas across Silicon Valley and India to hit the hockey stick growth curve," said Sunil Bhargava, founding partner of Tandem, who will help them get to the market through capital of $200K, expertise in finding product market fit and Silicon Valley connection.
Tandem also has its own space to accelerate 10 companies. "In early stages, innovation doesn't happen on meetings but in a very ad-hoc fashion (informal talks with experts or co-founders of other start-ups). This doesn't mean that they have to be in the Valley all the time but they have to spend a certain amount of time in the US to get the benefit of interaction," said Bhargava.
Presently, it is looking to accelerate about four companies. "We will look at companies that have a mobile offering which a user can find and download off the app store.
It could be a consumer or an enterprise solution company, which does not require a sales force to sell its products," revealed Bhargava.
As per the agreement, Kae Capital will also help Tandem's portfolio companies establish strong technology and product development teams in India.
Kae Capital will help vet and source talented product teams based in India that could benefit from Tandem. Early this year, Tandem-accelerated startup BASH Gaming was acquired by multimedia gaming and entertainment company Game Show Network LLC (GSN) giving its investors what is reportedly a 100x return. From the initial $1 million investment from Tandem and its partners, BASH Gaming was able to grow to $70M in revenue in just two years.
According to Bhargava, entrepreneurs have built products from not just London or Los Angeles but also Ludhiana, Lucknow and so on. However, the problem with them is monetisation.
"They do not quite have a good sense of how to turn these products into businesses," said Bhargava who launched Tandem in 2007 along with Doug Renert and Joyo Wijaya to provide a helping hand to them.
Lately, it has become a tad easier for people in any corner of the world to build global products as apps can be downloaded off the app stores. While it is not possible for funds to set up accelerators across locations to help their portfolio companies go global, they have been partnering with people who are armed with premier sources.
Tandem says it invests 'muscle capital' in disruptive mobile products and platforms across geographies. Bhargava has 20 years of technology and marketing experience and has worked with Xerox PARC, HP, Oracle, Webvan and Business Signatures.
Tandem recently launched an India-focused fund and roped in Manipal Education and Medical Group's CEO Ranjan Pai and its chief advisor TV Mohandas Pai (they are not related) as partners; it will invest in 20 startups in the country over 12 months.
Kae Capital has invested in 25 companies across technology related products and services.
(Edited by Joby Puthuparampil Johnson)
Comment(s)