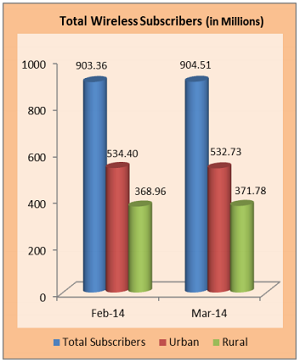 The number of telecom subscribers in India increased from 931.95 million at the end of February, 2014 to 933 million at the end of March this year, showing a monthly growth of 0.11 per cent, as per a TRAI telecom subscription report. India had 893.31 million subscribers by the end of January 2014.
Mobile continued to be growth driver of the industry with net addition of new subscribers standing at 1.15 million, taking total wireless subscriber base to 904.51 million. Fixed line subscriber base, however, marginally declined from 28.59 million at the end of February to 28.49 million at the end of March 2014.
According to the report, the data reported by service providers indicates that rural India is emerging as the growth driver. "Mobile services subscriber base in rural areas increased to 377.73 million in March from 374.96 million in February. Urban mobile subscriber share stands at 58.90 per cent as compared 41.10 per cent of rural subscribers," the report stated.
In 2012-13, high numbers were showing up since a large amount of inactive numbers was also being included. After TRAI came up with a three month deactivation rule for unused numbers, most non active numbers went out of the system. The percentage of active subscribers now stands at 87.44 as compared to 77.27 in the month of August 2012. Active mobile subscriber base increased from 780.27 million in Feb to 790.87 million in March this year.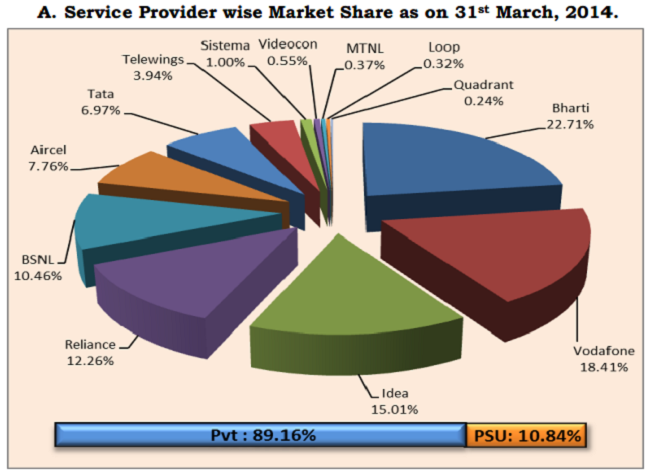 Reliance deactivated large chunk on non-active numbers from their system. The TRAI report shows that 6.98 million Reliance numbers went out of the system. Idea Cellular continued to be the top player in terms new subscriber additions for the second month in a row. The company added 2.2 million new customers, taking its total subscriber base to 135.78 million at the end of March 2014.
Vodafone added over 2.21 million new customers, while Airtel and Aircel added 1.89 million and 1 million subscribers respectively.
---