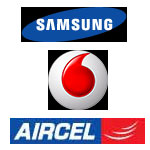 South Korean technology giant Samsung Electronics has partnered with telecom operators Vodafone and Aircel, following which users can download applications and games from the company's app store and make the payment through their mobile bill, according to a Times of India report, citing Tarun Malik, Samsung's director of media solutions center- Southwest Asia. The operator billing integration is available for both prepaid and postpaid customers.
According to Vivek Mathur, COO, Vodafone India, the partnership will provide Vodafone customers ready access to the Samsung app store with the convenience of operator billing. India has very limited credit card users and many of them are averse to using their cards for payments on mobile apps.
Besides applications and games, the service will also be expanded to cover the recently announced Kindle book service built for Samsung. The company is also planning to tie-up with other operators to provide this service.
In the past, many startups have taken the route of operator billing to allow users to pay through their mobile bills. Mumbai-based Genext Students, which has also partnered with Samsung to provide its education apps as a value addition on their tablets and smartphones, has been able to increase its customer base to tens of millions of users who otherwise wouldn't have been able to make payments because of their reluctance to make payments through credit/debit card. In turn, it is also a great proposition for telecom operators to increase their data revenue and enhance their value added services (VAS) propositions.
---