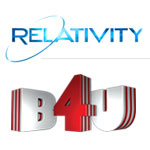 US ​-based​ media studio Relativity Media LLC and Laxmi Mittal's entertainment TV network B4U Television Network (India) Pvt Ltd have formed a $100-million joint venture (JV) to launch a digital streaming technology platform called RelaTV, which will focus on delivering short and long length video content to Indian viewers.
Additionally, the new entity will distribute and market Relativity films in India, Pakistan, Sri Lanka, Bangladesh, Nepal and Bhutan, starting with the romantic drama 'The Best of Me', and will release a few Bollywood movies in the US. The JV will also simultaneously produce multiple versions of movies catering to the US as well as the India markets. The new venture will also create a new pay TV channel in India focused on Hollywood content in both English and Hindi.
According to Ishan Saksena, who is heading the JV, the appetite for English language content is growing rapidly in India. "When you look at the viewership profile of Indian television, only one per cent is allocated to English entertainment. But that one per cent commands five per cent of all TV advertising. It is a very lucrative market."
Relativity, backed by US retail billionaire Ron Burkle, also owns and operates IAmRogue, a YouTube channel; music artist website ArtistDirect; and several other YouTube channels under the name RogueMovieNetwork. Relativity will monetize the video's ad inventory and also work on increasing premium ad pipeline. The company claims the network has access to six million unique visitors every month.
Relativity has financed dozens of Hollywood films including the recently released 'Paranoia', a thriller starring Liam Hemsworth and Harrison Ford, and 'The Family', a dark comedy starring Robert DeNiro and Michelle Pfeiffer.
RelaTV faces tough competition from Google's YouTube, Spuul, Reliance Group's BigFlix, Times Internet's BoxTV, Eros International's Eros Now and Hungama Movies.
Other deals in this space
Earlier this year, Walt Disney Co had agreed to acquire Maker Studios, one of YouTube's largest networks, for $500 million. Recently, online video service Spuul.com had signed a multi-year, worldwide agreement with IndiaCast.com for streaming video content.
---