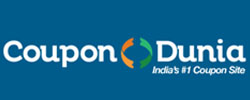 Times Internet Ltd has acquired majority stake in Mumbai- based CouponDunia Media Pvt Ltd, which runs online coupon service CouponDunia.in, for an undisclosed amount and will merge its existing deals site TimesDealwith CouponDunia.
CouponDunia will retain its distinct brand identity and will continue to operate under its CEO Sameer Parwani, who will work closely with Times Internet.
"This investment continues The Times Group's strategy of strengthening its position in digital media.  We are excited at the prospect of leveraging Times' resources, including TimesDeal's existing local deals presence, to build an even more compelling value proposition for consumers with CouponDunia," Satyan Gajwani, CEO of Times Internet said.
"With their support, CouponDunia will be better placed to offer even greater value to the consumer," Sameer Parwani, founder and CEO, CouponDunia India Private Limited added.
Founded in December 2010, CouponDunia claims it now receives 2 million visits a month, serves coupons from more than 1,500 online brands, and has more than 1 million subscribers. It claims to be driving Rs 500 crore worth of purchases annually.
Last year CouponDunia also expanded overseas with separate local language sites in Turkey, Poland,Brazil and Indonesia.
In India it competes with the likes of Rocket Internet-backed CupoNation and Cashkaro among many other couponing sites.
In the last year, Times Internet has made two acquisitions including the recent DineOut, six global partnerships, four minority investments and over 20 investments into startups through accelerator TLabs.
---