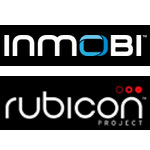 Bangalore- and San Francisco-based mobile ad network InMobi has partnered with Rubicon Project, a US-listed technology company that automates the buying and selling of advertising. As part of the partnership, the company has launched InMobi Exchange to automate the process of buying and selling mobile native ads at an unprecedented global scale.
With this, all ads, native and otherwise, will now be available for real-time bidding and InMobi's publishers will get access to Rubicon's existing base of advertisers. The agreement will enable hundreds of buying platforms (representing tens of thousands of advertisers) and reach 759 million active monthly unique users globally across 30,000 mobile apps. According to the company, the InMobi Exchange is built from data of over one trillion proprietary mobile consumer activities.
For publishers and app developers, InMobi Exchange will offer sell-side applications and real-time bidding capabilities for native and traditional mobile ad formats.
"We are taking the next natural step by bringing these custom native experiences to programmatic buyers and sellers at scale. We believe that this represents the next era of digital media buying globally," said Naveen Tiwari, CEO, InMobi.
"Our infrastructure and massive installed base of buyers, combined with InMobi's mobile expertise and scale, creates one of the largest automated global exchanges poised to accelerate mobile advertising adoption," added Frank Addante, CEO, founder and chief product architect, Rubicon Project.
Set up in 2007, InMobi's platform enables brands, publishers and developers to engage with global consumers through mobile advertising. The company is backed by investors such as SoftBank Corp, Kleiner Perkins Caufield & Byers and Sherpalo Ventures. In 2011, it had struck what was at that time the largest deal in the mobile internet space in India with $200 million commitment from Japan's SoftBank. The company has offices in India, the UK and the US, as well as in other global locations.
It currently employs 800 people and has customers in 165 countries and had expanded its footprint into the rest of Asia, Europe and Australia. Earlier this month, InMobi launched a self-serve native ad platform to enable developers insert slots in their apps, through which ads can be displayed. Last year, it had also launched new ad format SmartAds which enables advertisers to deliver personalised ads.
The platform also helps end consumers receive contextually relevant ads based on external feeds like location, weather and live data like stock market feeds. Last month, the firm had introduced native advertising on its platform, which enables brands to deliver ads that do not distract users from their app's primary experience.
With its native mobile ad exchange, InMobi competes with global companies like Hexagram, TripleLift and Bidtellect.
---