Facebook's global acquisition of WhatsApp is seen as a global coup but the deal could especially push its mobile user-base in India, a market where the chat service has been registering more traction in the recent past at least when it comes to smartphone users in the country, as per a report by market research agency Nielsen.
A Nielsen Informate Mobile Insights report said that the usage of Facebook has remained more or less steady over the past year with a marginal increase in reach and no change in engagement levels while usage of WhatsApp Messenger has grown, with even older users showing an increase in India.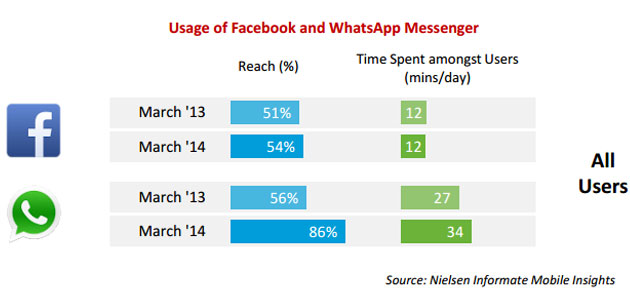 It adds that over one out of three smartphone users in India are active on WhatsApp Messenger but do not access Facebook.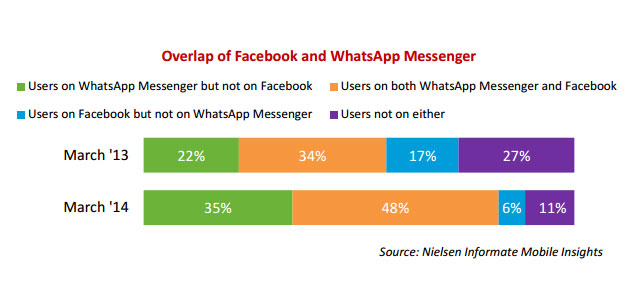 This could significantly push up Facebook's total mobile user base in India, which became its second largest market in the world early this year (behind US) after the Monthly Active Users (MAUs) in the country crosses 100 million mark.
The report adds that the reach for WhatsApp Messenger has grown by over 50 per cent in the past year. And currently, close to 9 out of 10 smartphone users are active on the chat app and spend over half an hour a day on it. On the other hand, Facebook usage continues to remain constant.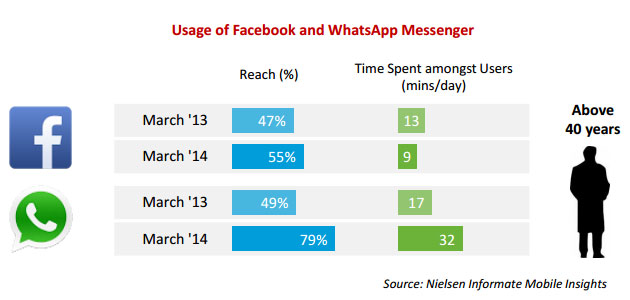 ---