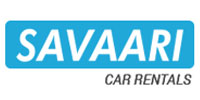 Bangalore-based Savaari Car Rentals Pvt Ltd, which offers chauffeur-driven car rental services online, claims to have completed 150,000 transactions till date. According to the firm, the average transaction size is more than Rs 3,500, which means its gross revenues (or total sales) could be over Rs 52 crore.
"We are expecting a threefold growth in terms of revenue in this fiscal," said Gaurav Aggarwal, founder of Savaari.
The company was set up in August 2006 by Aggarwal, who previously worked at Cisco Systems and Tata Consultancy Services. He holds a master's degree in Computer Science from Georgia Institute of Technology (US) and a bachelor's degree in Electronics from KJ Somaiya College of Engineering, Mumbai. Although Savaari offers airport pick-ups and drops, its core focus is outstation trips and local half-day/full-day bookings (packages like 4 hours/40 km and 8 hours/80 km for within-the-city travelling).
Savaari had raised Series A funding of Rs 5 crore from Inventus Capital Partners in April 2012. Post that it raised an undisclosed amount from Intel Capital in October last year, which it is spending on creating a wider brand identity.
The growth chart
As of April 2012, the company had a network of 100 operators and 3,000-plus cars across 60 cities. It has now increased its partner operators' network to 170 and added another 1,200 cars to its offering. The company targets corporate and retail users, as well as online travel agents whose clients mostly opt for local half-day/full-day trips, multi-day tours and also multi-city trips. While earlier the focus was more on corporate clients, the company is currently focusing on 'regular' retail customers (like us).
Savaari is also in active talks with a leading airline in the country to provide flat rate airport transfers starting from Rs 349.
Focus on individual customers
Presently, the company has a 50-50 ratio of corporate and retail clients and this year- through its marketing initiatives- Savaari plans to generate at least 70 per cent revenues from only retail customers.
"We are constantly improving all our touch points including chauffeur interaction with customers, our website that has a simple two-step process for cab booking and our Android app that lets us control delivery schedules. This approach has paid off as we have seen triple-digit growth in both our corporate and retail businesses," said Aggarwal.
As for challenges, the biggest one for the company is to create brand awareness and recall throughout the country. And to achieve it, Savaari will primarily target marketing, technology and resources in 2014.
"We have barely used up to 20 per cent of the capital that we raised from Intel. We will deploy the funds for marketing our platform in the coming months to make it more popular among retail users," shared Aggarwal.
Other players in the market
Online car rental is one of the fastest growing segments in India, and a number of domestic as well as global VC investors and PE firms have already poured millions of dollars into this space. Leading domestic players include Olacabs, Savaari, taxiGUIDE and Cabs24X7. Large players such as Meru have also been trying to capitalise on technology to scale up their businesses.
Recently, TaxiForSure raised $10 million in its Series B round of funding led by Bessemer, while Olacabs secured $20 million its Series B funding from Matrix Partners and Tiger Global. ZoomCar, a membership-based self-drive car rental service launched by two US citizens had also entered India last year. The company has raised $1.6 million in funding from a group of domestic as well as foreign investors.
Last October, Google Venture backed mobile-based on-demand car hire service Uber came to India, and it has already expanded to all major cities, including Mumbai, Bangalore, Hyderabad and Chennai.
---