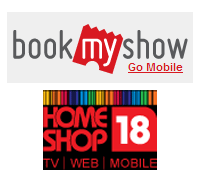 Network18 Media & Investments' digital business, which includes online news content besides e-commerce business, saw approximately 28 million unique visitors in the quarter ended June 30, 2014.
The firm, which came out with its first results under the management control of Reliance Industries, did not disclose segment financials on the digital arm as it used to but shared some operating metrics.
In the digital commerce business, BookMyShow.com's average tickets sold per month grew 30 per cent sequentially to 3.7 million from 2.9 million in Q4 FY14. This means it is doing roughly 1.2 lakh tickets a day or 85 tickets a minute.
Homeshop18, which is the process of going public in the US, crossed the milestone of a 10 million customer base and executed over 2 million orders last quarter. This translates into over 16,500 orders per day or over 11 orders a minute. The firm did not give separate data on how much of this comes from home shopping channel and how much from the e-commerce portal.
Network18's digital content businesses include Moneycontrol.com, Firstpost.com, In.com, IBNlive.com, Burrp.com and News18.com.
For the quarter ended June 30, 2014, Network 18 Media & Investments has posted income from operations of Rs 708.4 crore, up 27 per cent over the year-ago period. Operating loss more than halved to Rs 25 crore in the same period but the firm booked exceptional items due to diminution in value of assets, write offs and severance payout as part of management change, totaling Rs 1,045.3 crore. The firm did not give further details on the assets whose value it has written off which sunk its profit before tax to Rs 1,152.8 crore against PBT of Rs 21.1 crore in the year-ago period.
In particular it paid off Rs 20.94 crore as severance pay and consultancy costs last quarter.
Last quarter, a string of top executives of the firm had quit as Mukesh Ambani-led Reliance Industries Ltd (RIL) moved on to take control of the firm by picking majority stake in Network18 Group in the biggest deal in the Indian media sector.
This marked the culmination of the multi-tier deal originally struck two years ago, where, in the first leg, the group had bankrolled Network18 promoters to buy Eenadu with convertible debt.
---